Sponsored by


Your ultimate

shore guide

2018
A bevy of boozy brunches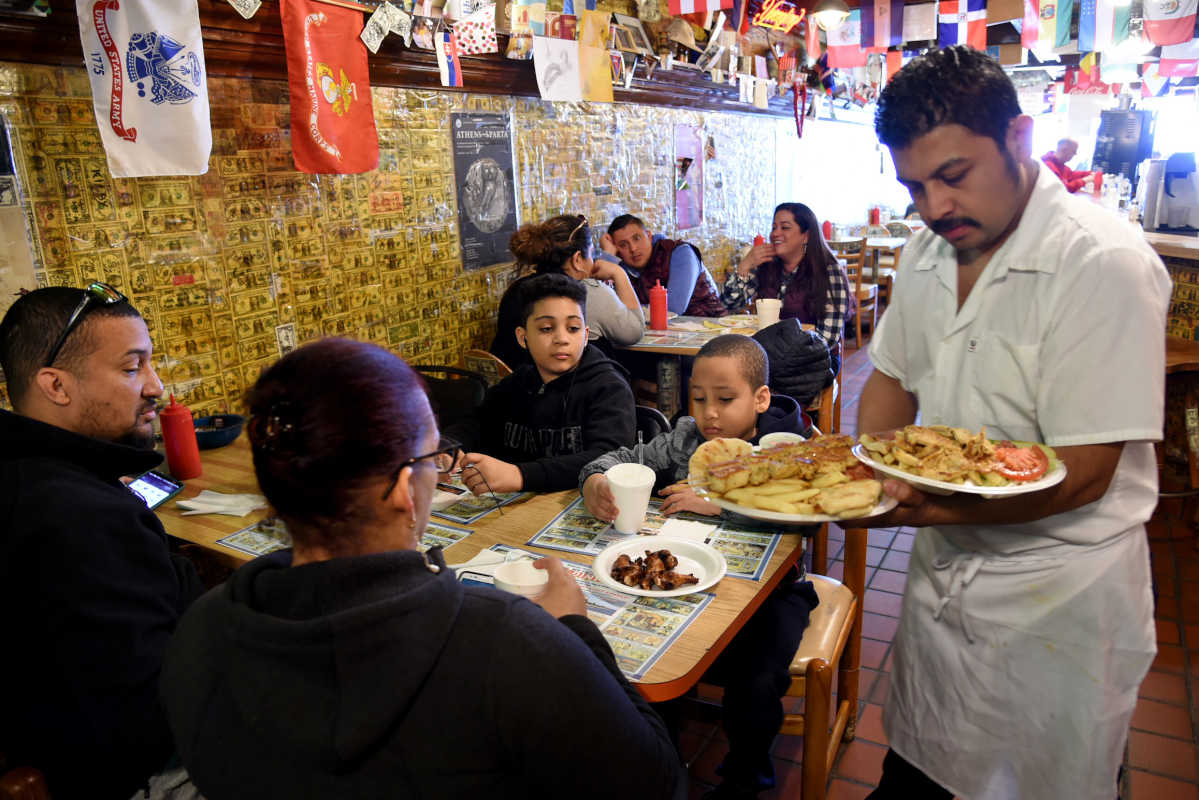 TOM GRALISH / Staff Photographer
Returning from a visit to Miami one year when I had sought out some great sunny, bottomless-brunch places, it occurred to me that perhaps I was selling short the resort just up the boardwalk. So my twentysomething daughter and I set off by bicycle in search of our own seaside boozy brunch spot. And there it was, Cabana Bar & Grill, delivering an excellent spicy Bloody Mary, fancy-enough breakfast, and tables set under tiki umbrellas in an area jutting out onto the Atlantic City Boardwalk.
Who needs Miami Beach?
Though many of the Jersey Shore's most beloved breakfast places are booze-free, here are a few where it flows, and where everyone's Bloody Mary seems to be famous.
Also on the A.C. Boardwalk, Bungalow Beach's breakfast patio at California Avenue and the old-school Bill's Gyro near Kentucky Avenue will do nicely. Even if Bill's Gyro's "never closed" sign has become late-night wishful thinking, a trip to this classic dive will always satisfy you. Highly recommended: a Bloody Mary and a Greek omelet. Come later for a gyro.
Outside the Tropicana, Casa Taco has some handsome high tops set amid palm trees for its popular al fresco breakfasts (and a tequila-based Bloody Maria). But the brunch secret at the Trop might be one inside, upstairs at the RiRa Irish Bar, with a menu including whiskey maple French toast and a proper Irish breakfast of eggs, Irish sausages and rashers, black and white puddings, grilled tomato, and sauteed mushrooms and toast, plus $5 Bloody Marys and mimosas.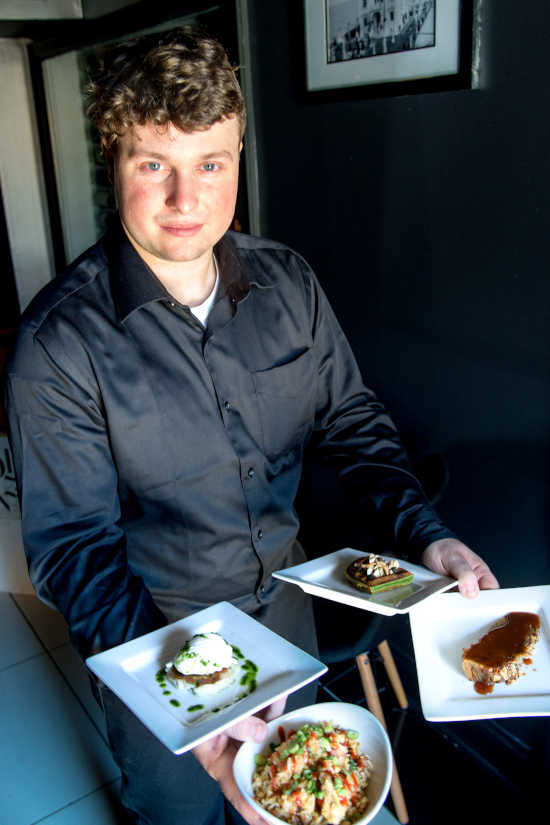 TOM GRALISH / Staff Photographer
The Iron Room serves an all-you-can eat microplate Sunday brunch.
One more required visit for any brunch aficionado in Atlantic City: the Iron Room's all-you-can-eat self-described "boujee" microplate Sunday brunch, where $24 will get you plates ranging from tuna poke to parsley waffles to a ham and Swiss potato pancake topped with poached egg and parsley sauce to disco fries, to go with storied cocktails, all meticulously curated. 648 N. Albany Ave.
Dry Ocean City will never be a boozy-anything mecca, but the thing to do is jump on a bicycle, ride over the lovely Ninth Street Bridge, and head straight to the venerable Charlie's Bar, where a Sunday-only 9 a.m.-to-noon breakfast is on the menu. Splurge on a Rum Bucket, why don't you? The last ingredient is orange juice, after all. 800 Shore Rd., Somers Point.
On Long Beach Island, the Arlington, 1302 Long Beach Blvd., Ship Bottom, offers a "bottomless" mimosa and Bloody Mary special ($10 for the first, $1 for additional) to go with weekend specials that include a breakfast taco of pulled pork, egg and kimchee; shrimp and grits; and an eggs Chesapeake (poached eggs, crab cakes, greens, Old Bay hollandaise). Nardi's Tavern, 11801 Long Beach Blvd., Long Beach Township, opens at 7 a.m. and offers an Old Salty Dog of vodka, grapefruit juice, and a salty rim.
On the North Wildwood boardwalk, Adam's Restaurant will fill the bill with an oceanview brunch, as will Coastal Blue on Diamond Beach in Wildwood Crest.
In Cape May, the Blue Pig Tavern at Congress Hall, 200 Congress Place, and the dog-friendly Rusty Nail, 205 Beach Ave., benefit from their association with Beach Plum Farms, offering fresh eggs and menu items like the Pig's Beach Plum omelet of sweet peppers, hakurei turnip greens, scallions, and goat cheese.
Hit the Mad Batter, 19 Jackson St., for its $14 Manmosa (orange vodka, Allagash white wheat beer, o.j., and champagne in a 23-ounce pilsner glass). Offerings range from creamed chipped beef over white toast to a vegan black bean and tofu tostada. Try the Morgan Rostie: eggs, crabmeat, and sun-dried tomatoes over crispy fried potatoes, finished with herbs and Swiss cheese. Then sweat it out on the beach.