Really big roadside Guys and an 18-foot-tall Gal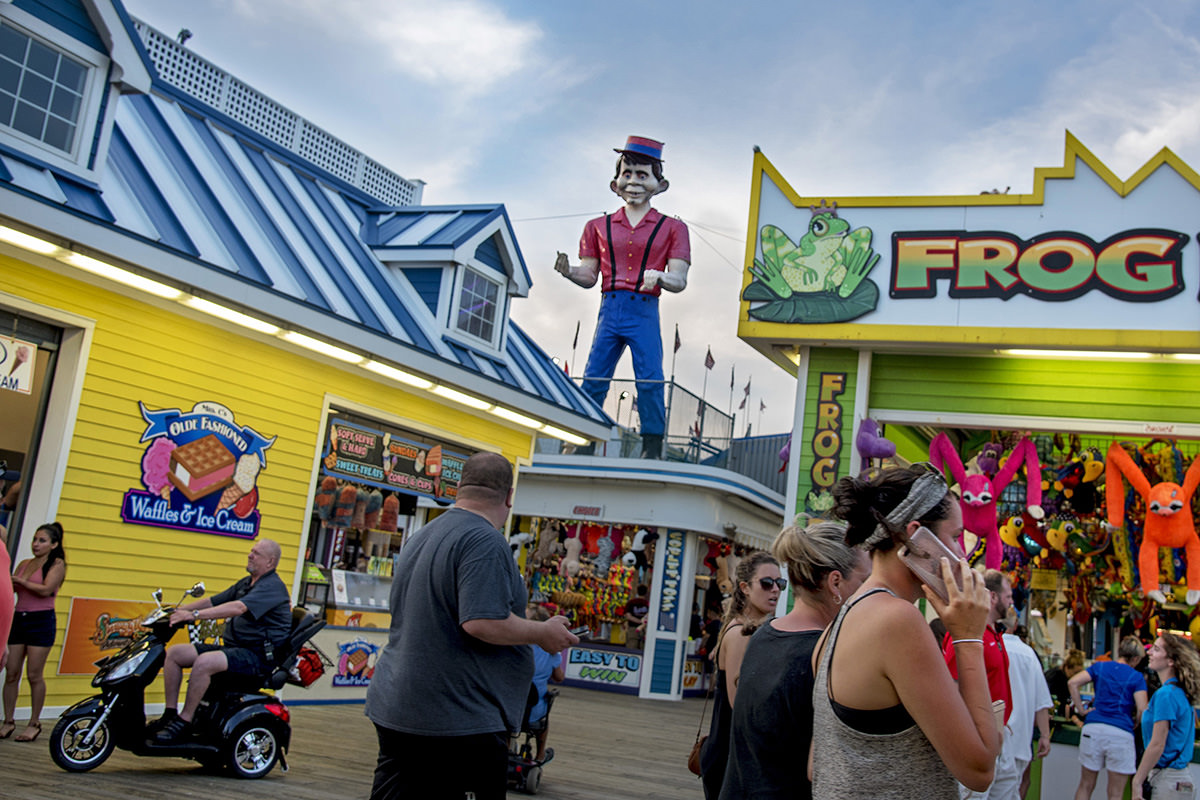 Where to see the classic roadside attractions that are a short drive from Philadelphia.
Wednesday, Sept. 12, 2018
In the "See the USA in Your Chevrolet" era of the 1960s and '70s, hundreds of really big fiberglass figures were created as roadside attractions and attention-getters along the highways and byways of America. The story goes that in 1962, a California maker of large farm animal statues had an order for a giant Paul Bunyan figure that the customer never paid for. So he put it in his truck and headed east on the kitschy, but now historic, Route 66 in search of a buyer. He got as far as Flagstaff, Ariz., where the Lumberjack Cafe took it off his hands.
He later sold his company, and the molds, to International Fiberglass in Venice, Calif., which went on to make more Paul Bunyans as well as pirates, Indians, astronauts, and cowboys for Phillips Petroleum, Big Friends for Texaco, Vikings for Viking Carpet, and Miss Uniroyal for U.S. Rubber. They also did animals, including Sinclair Oil's dinosaurs and the tigers for Humble Oil's Enco/Esso Extra "Put A Tiger In Your Tank" service stations.
Most of them were junked or disappeared as the large oil and tire company stores faded during the 1970's fuel crisis, and International itself went out of business in 1974. But the remaining Big Guys and Gals continued to be resold, reconfigured, repurposed, and reestablished around the country.
In 1986, the book "Roadside America" was published by Doug Kirby and Ken Smith, who attended Glassboro State College (now Rowan University) together, and a third friend, Mike Wilkins. The book was a travelogue to offbeat attractions across America. Many of the giant figures they saw were square-jawed men with both hands extending out in front of them, one palm up, one down. Because some of these fiberglass giants were holding a product, like a tire or a muffler, they coined the name "Muffler Man" to describe them. With the internet and the creation of their website in 1997, they started keeping track of the figures and invited other travelers to report sightings and send in photos. Before they knew it, they'd become experts on the genre and eventually created an interactive map of almost every "Muffler Man" - pirate, dinosaur, woman, etc. - in America. A handful are within an easy drive of Philadelphia.
Barnacle Bill's Amusements, Ortley Beach, N.J.
The Paul Bunyan figure at Barnacle Bill's mini-golf course is like the one installed at the Lumberjack Cafe on Route 66. It is believed to be among the first made and may have first appeared at the 1964 New York World's Fair in Queens, N.Y. Bill Petruzel, owner of Barnacle Bill's, remembers when his dad found it three years after the fair ended, in pieces behind a gas station in Lakehurst. He bought it for $500. Bill, then a 17-year-old surfer, knew how to work with fiberglass, so he restored it, and it has been in the family ever since, repainted every eight to 10 years and overlooking the 9th hole.
While the Big Guys on the boardwalk at nearby Seaside Heights were severely damaged during superstorm Sandy in 2012 (see Casino Pier and Arnold's Family Fun Center photos below), Barnacle Bill survived because he had already been taken down and stored after the summer season when Sandy hit. "We got hundreds of emails from people asking if he was safe," Petruzel recalls. "Then they would inquire if we were OK."
The rest of Petruzel's place was not so lucky. They had to rebuild the entire golf course, as well as the restaurant and the arcade, with its games collected over 40 years destroyed. With the help of Toms River Township post-Sandy relief, and his wife and two sons (who now mostly run the place), Petruzel was able to rebuild everything, and they reopened on July 31, 2013 - exactly 50 years to the day after his father opened the mini-golf course.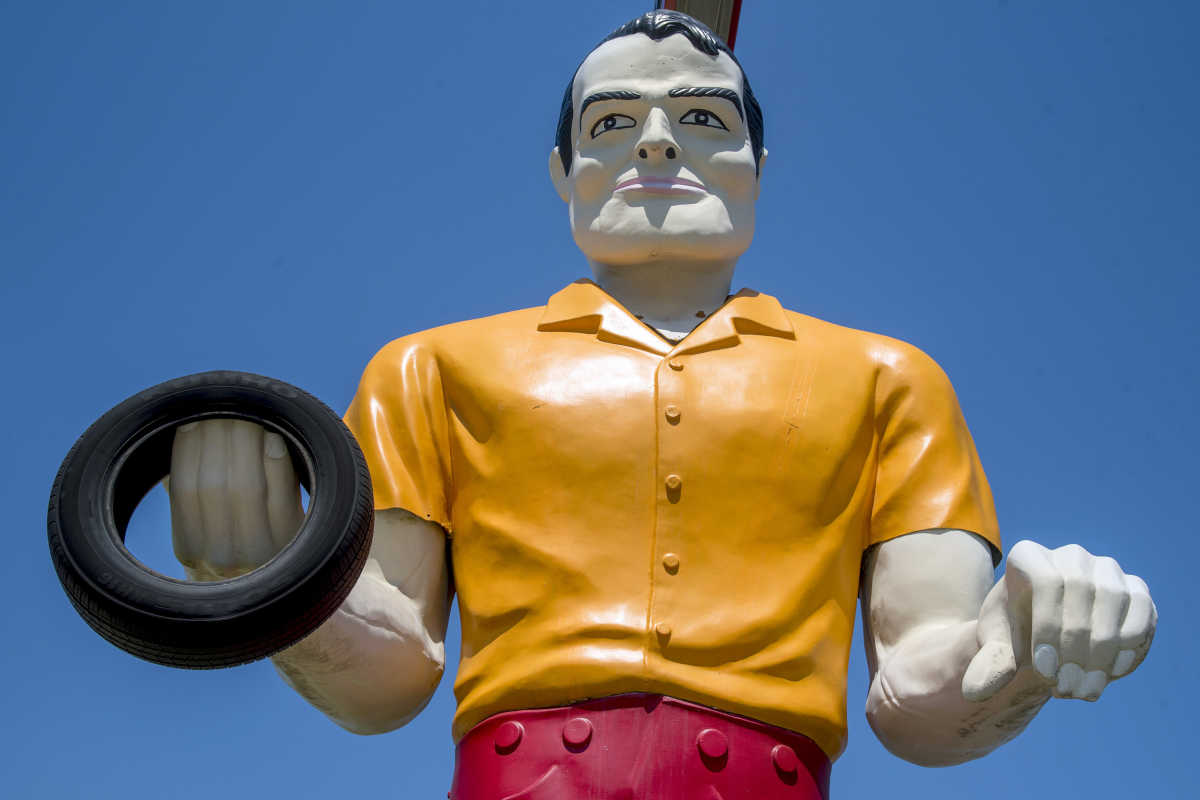 Royal Tire & Auto, Magnolia, N.J.
301 N White Horse Pike, Magnolia, NJ 08049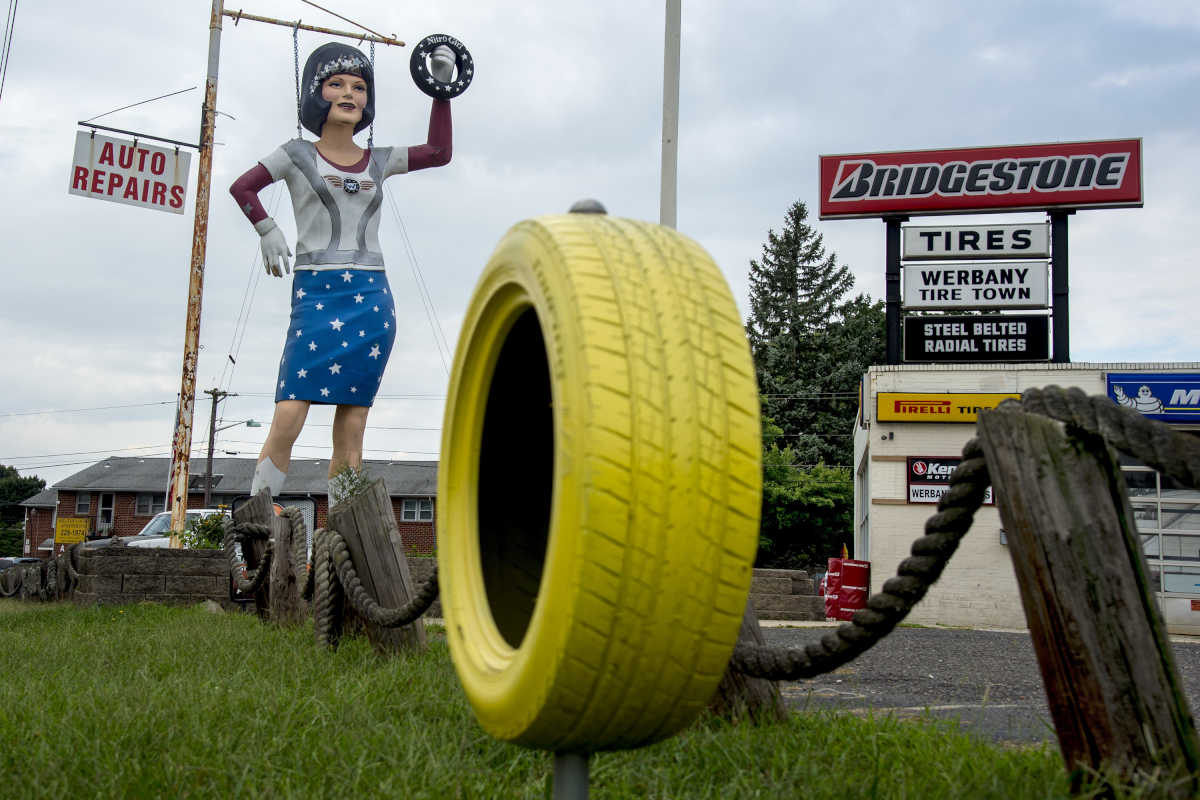 Werbany Tire Town, Blackwood, N.J.
1337 N Black Horse Pike, Blackwood, NJ 08012
They now live on two different pikes -- Tire Guy on the White Horse and Nitro Girl on the Black Horse -- but Camden County's largest, if not cutest, couple, once came close to becoming, well, closer together.
Ed Werbany Jr.'s family has been in the tire business since 1958. His father, Ed, Sr., purchased a "Miss Uniroyal" for $250 in 1965, and she has been on the Black Horse Pike ever since. In 2002, Ed, Jr. paid $10,000 for a Muffler Man when a competitor - Trio Tire in Clementon - went out of business. (The figure was previously seen in the 1970s at Allied Tire, on Route 73 in Palmyra). He briefly considered placing it next to what they then called "the Doll." But as Werbany told Weird N.J. magazine: "You don't really need the publicity of having two up there: One is enough." So the Tire Guy was set up instead at Werbany's Royal Tire & Auto store on the White Horse Pike.
In 2007, Werbany hired local artists Linda M. Shelley and Karen Baxter to transform Miss Uniroyal's green and teal miniskirt outfit into a patriotic superhero costume "to support the war effort," and she was renamed "Nitro Girl" to promote the shop's use of nitrogen to fill tires, instead of air. Shortly thereafter, Ed was featured as a "Difference Maker" on Stephen Colbert's The Colbert Report, describing Nitro Girl as "the most patriotic giant American woman since the Statue of Liberty -- and she does it all without inviting immigrants to invade our country."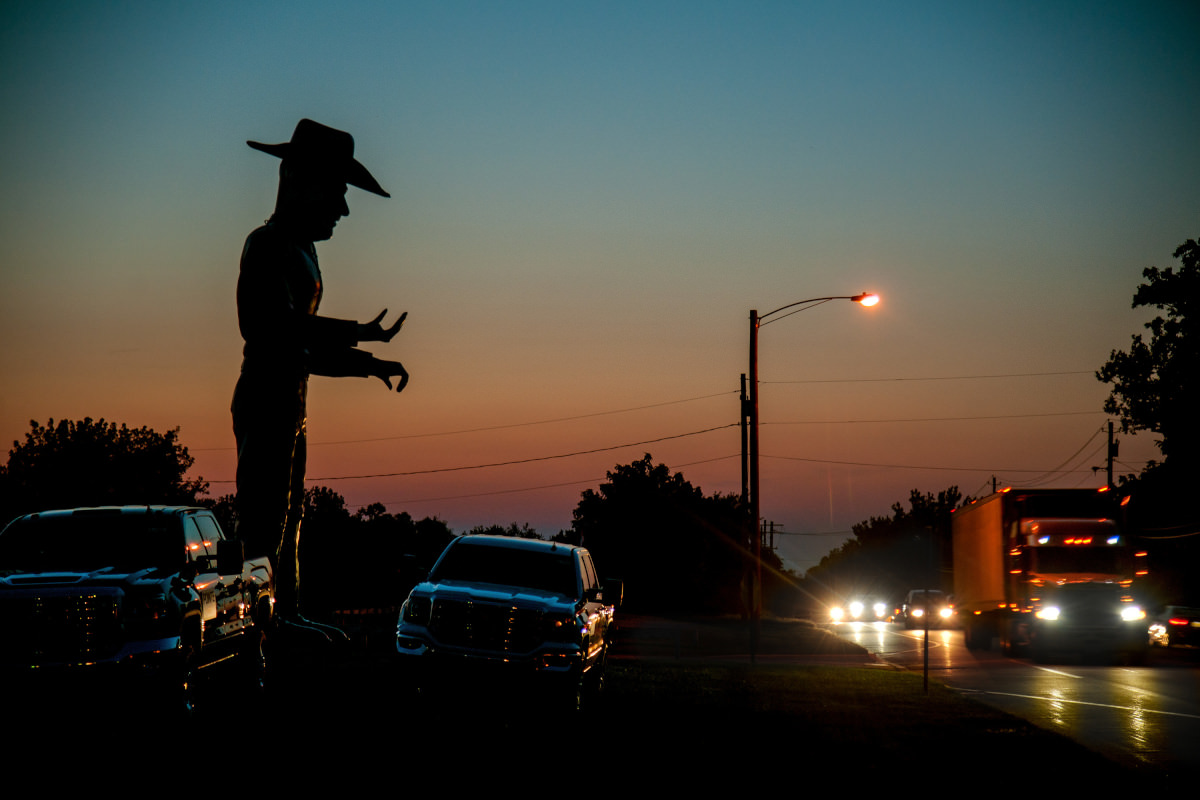 Cowtown Rodeo, Pilesgrove, N.J.
The landmark cowboy statue outside America's oldest weekly rodeo has a different head than other International Fiberglass cowboys. Its face was said to be modeled after "Marshall Sid," owner of Sid Broughton Dodge, of Wilmington, Dela., where the cowboy was installed on top of a stagecoach in front of the dealership in 1967. Stoney Harris, grandfather of Cowtown's current owner Grant Harris, bought the figure at auction in 1975 and used a neighbor's flatbed to truck it north.
Cowtown's website has a fun listing of eight "facts" about their cowboy, including Number 3: "We did have a lasso in his hands for many years, but it was just too tempting for all the Jersey Shore tourists. They would pull over and jump on the lasso, try to swing from it and the risk of injury was too high, so we had to retire his lasso. At Christmastime he holds an evergreen wreath in his hands (since that doesn't seem to be as tempting to hang from). "
Just finishing its 64th season, Cowtown's last professional rodeo of the year will be Sept. 29.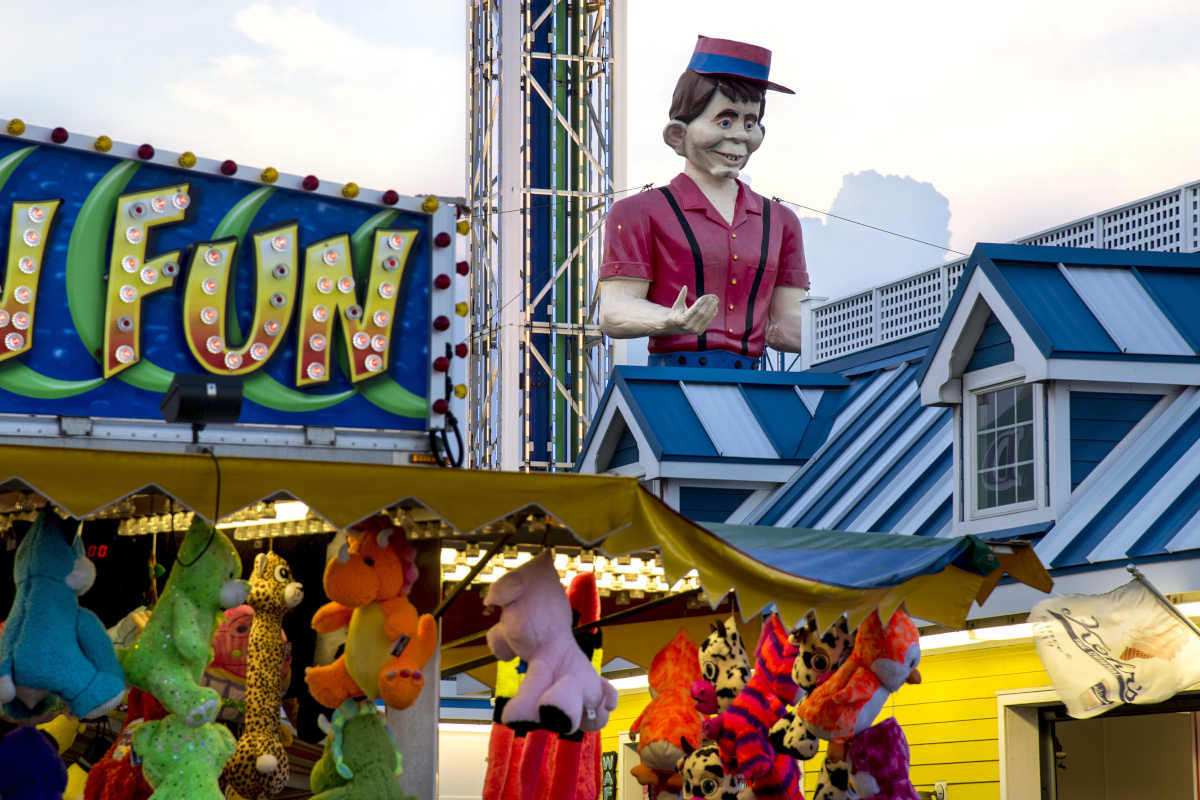 Casino Pier, Seaside Heights, N.J.
800 Ocean Terrace, Seaside Heights, NJ 0875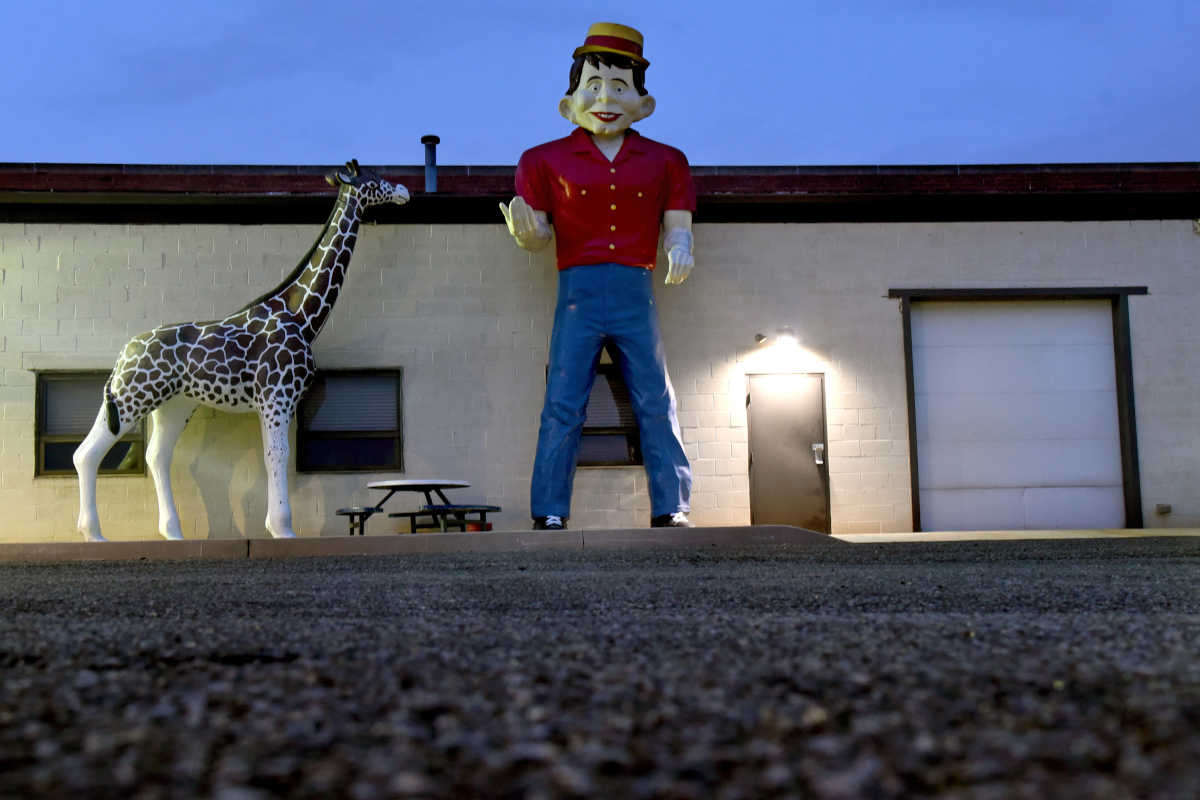 Arnold's Family Fun Center, Oaks, Pa.
422 Business Center, 2200 West Drive, Oaks, PA
International Fiberglass' country bumpkin figure was called Mortimer Snerd by the company, after ventriloquist Edgar Bergen's puppet, although its face more closely resembles Alfred E. Neuman of Mad magazine. "Roadside America" dubbed them "Half Wits."
There were once two Mortimer Snerds on the boardwalk at Seaside Heights, both damaged by Superstorm Sandy in 2012. The pair were split up, with one purchased and restored by Arnold's Fun Zone in Oaks, Pa. in 2014.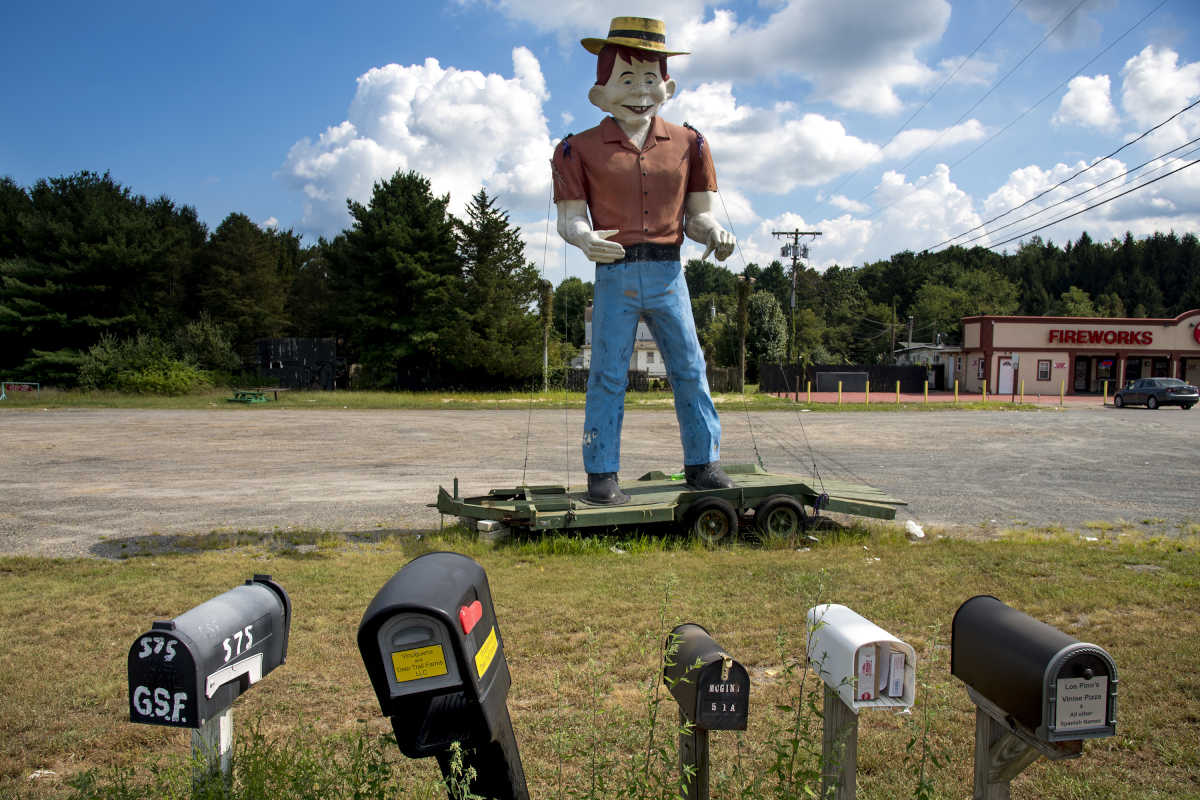 Dracula's Domain, Cream Ridge, N.J.
Mary Ann Vinciguerra and her husband, Tony, call their Mortimer Snerd "Mamoo," an Italian term of endearment for "big lug."
The couple farms near Six Flags in Jackson Township, as they have since long before the amusement park opened. They once operated a farm stand, and Mary Ann would sell sandwiches to customers. Eventually, they opened a restaurant. "Tony still likes to explore," she says, recalling how he would "go out and find things." He found Mamoo among the demolition of Steel Pier in Atlantic City when casino gambling was legalized in the 1970s. He paid $800 for it, and it went up as a roadside advertisement.
They no longer own the restaurant but operate a seasonal Haunted Hayride, called Dracula's Domain, on the farm. A few years ago, Mamoo was knocked over during a storm, but the guys who operate TopGun Paintball Games on the site are used to fabricating things out of fiberglass and fixed him right up. The property also has the heads of two other Big Guys: another Mortimer Snerd and a Dracula.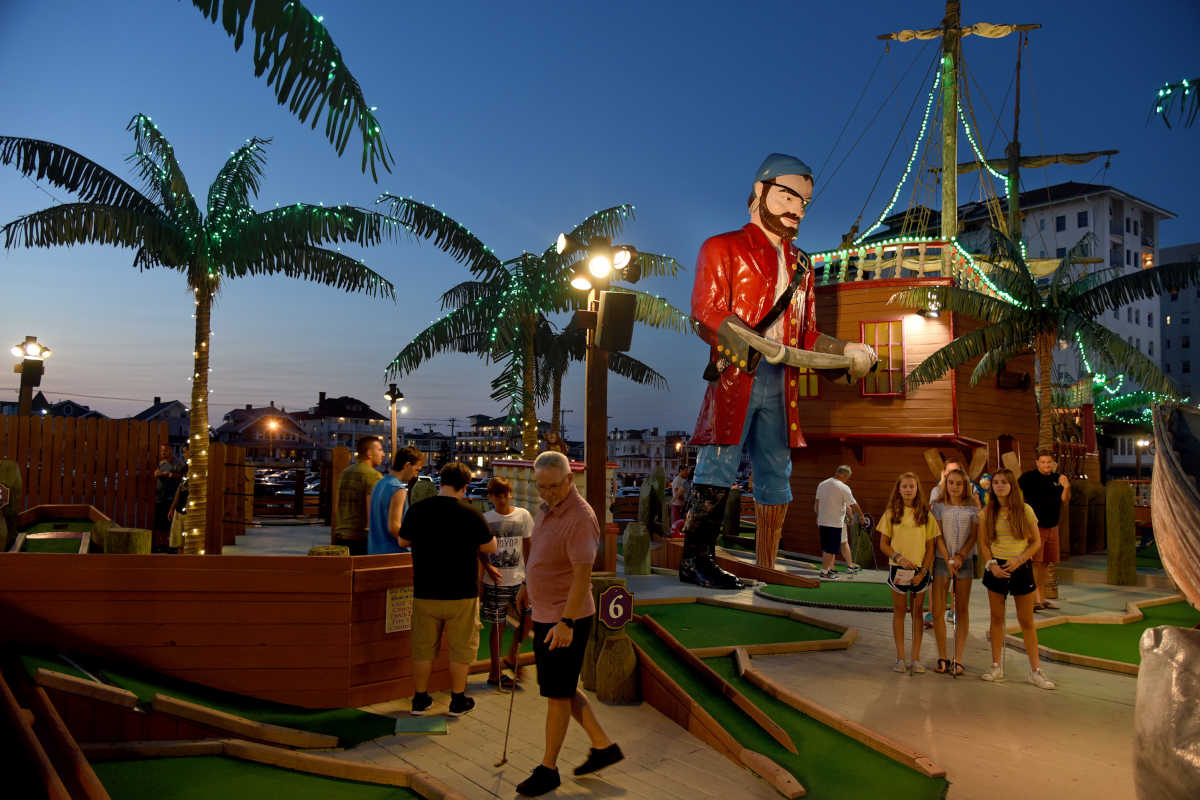 Golden Galleon Pirate Golf, Ocean City, N.J.
Like a lot of the Big Guys, the Pirate was an optional modification of the Paul Bunyan figure. He came with an eye patch, hook, earrings, and sword. And like a lot of the Guys and Gals, they got around.
Scott Simpson, owner of Playland's Castaway Cove on the Boardwalk in Ocean City, N.J., remembers driving with his dad, David, to Springfield, Delaware County, Pa., to attend an auction after Playtown Park on Baltimore Pike closed in the late 1960s (it became a Clover store and is now the Kohl's).
They bought the fiberglass pirate and other rides and decorations. Simpson says they still have some clown trash-can lids in storage that his dad bought, but they've never used. The Pirate has been on the Golden Galleon Pirate Golf - a double 19-hole mini-golf course in the next block over from the rides, go-karts, and arcade - ever since.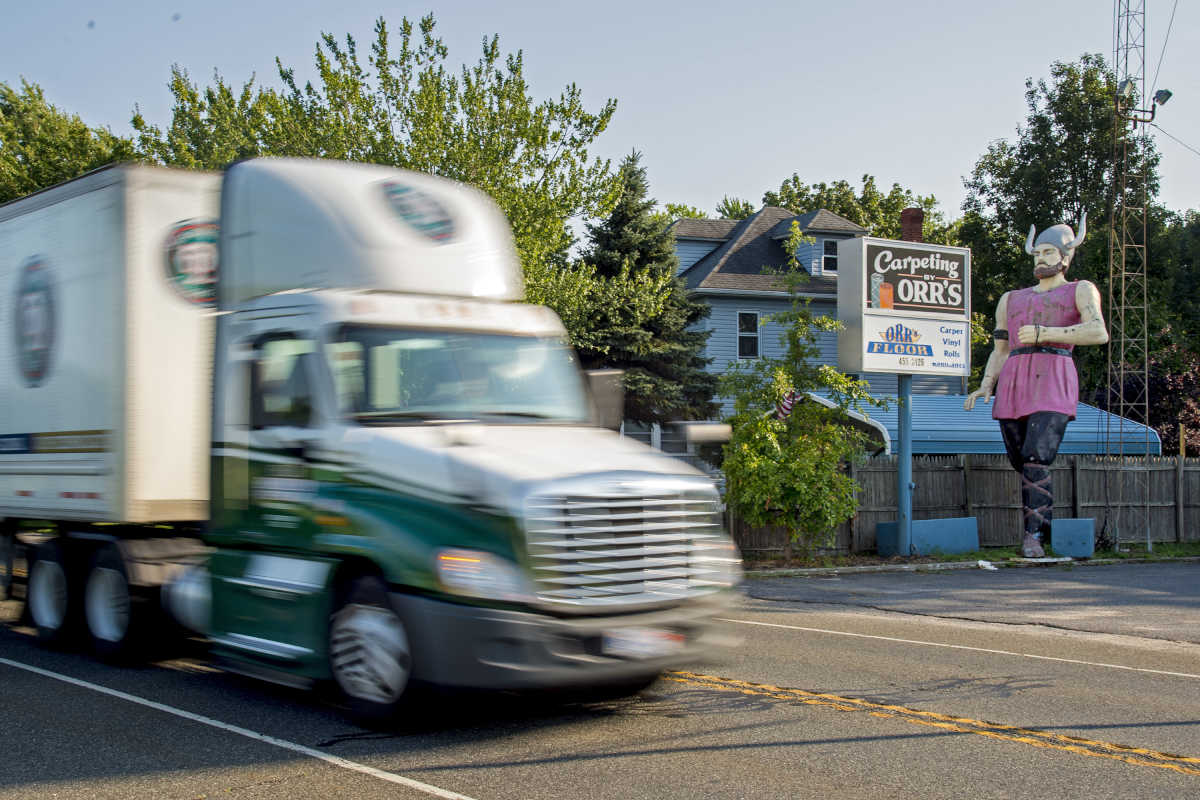 Orr's Flooring, Deerfield, N.J.
A lot of the surviving 1960s-era Vikings are now in front of high schools as mascots. They were produced for Viking Carpets by International Fiberglass. The statues were named "Erik the Viking" and were used for promoting the company's kitchen carpeting. Retail stores could either buy them outright or lease them. Most went with the latter option, which is why there are not many still standing across the country.
This one in Cumberland County was purchased and installed at Orr's Carpeting in the late 1960s, where it stayed until the store closed in 2000. The store remained empty for most of the next decade, and Erik was moved to the front yard of the home next door. In 2006, Margaret Stierle bought the store and moved the Viking back to the front. She kept the Orr's name and still sells carpets and flooring.
Stierle says she had wanted to "do something special" with him around the time the Eagles faced the Minnesota Vikings in last year's NFC Championship game but she never got around to it (Eagles won, 38-7, on the way to their Super Bowl victory).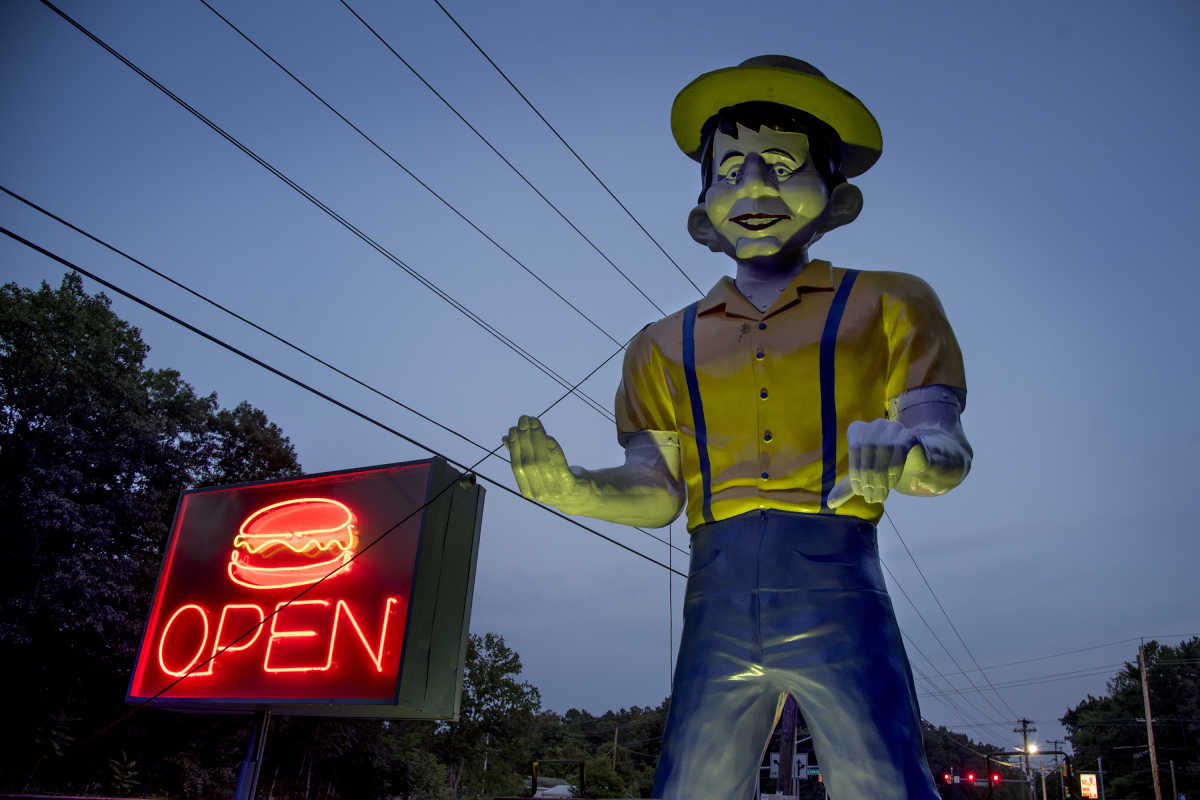 Mr. Bill's Restaurant, Winslow Township, N.J.
The tall figure outside Mr. Bill's drive-in has been a familiar pit stop and landmark for many families headed to the Jersey Shore on Route 73 since the 1980s. He was relocated there after his home at another N.J. drive-in, Tom's Famous Steaks and Hoagies, on Route 130 in Edgewater Park, N.J., closed in the 1970s and was about to be demolished.
Eventually, Mr. Bill's also closed. Owned by the bank, it sat vacant for almost two years. That usually means fixtures, like stoves, sinks, tables, and chairs - or say, a 24-foot statue out front - get sold off and moved elsewhere. Not this time. When John and Cheryl Ernst bought the place in 2016 the Half Wit / Mortimer Snerd / Country Bumpkin / Alfred E. Neumann fiberglass figure was included in the sale.
They refurbished and repaired everything, including the beloved mascot, and reopened that summer.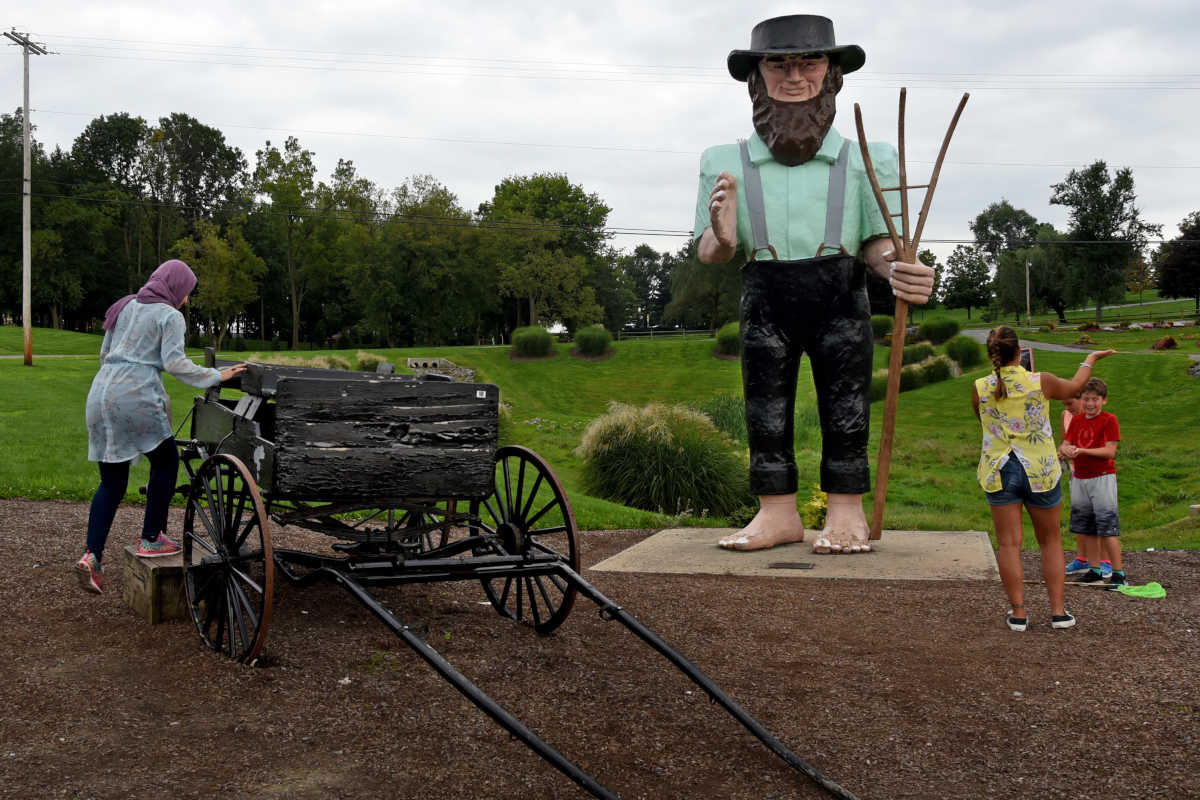 Hershey Farm Restaurant and Inn, Ronks, Pa.
"Amos the Amishman" is the only Big Guy around the Philadelphia area not created by International Fiberglass. He was made by fiberglass worker Rod Shutt in Lancaster County in 1969 to replace a nine-years-older Amos in front of Zinn's Diner, off the Pennsylvania Turnpike's Adamstown exit.
Amos was originally wired for sound, and diner patrons could hear him tell Amish jokes - "Yumpin' yiminy" - in an exaggerated Pennsylvania Dutch accent. He was silenced in 2003 when the diner closed and donated to the Lancaster Heritage Center. He was too big for their museum in downtown Lancaster, so another local fiberglass craftsman, Irvin A. Licht, who keeps up the figures at Dutch Wonderland, repaired and restored him. He is now at the Hershey Farm Restaurant and Inn outside Strasburg.