Pennsylvania native Arlene D. "Mama Arlene" Brown with some of the children housed and schooled at UrukundoVillage, an independent home for children about an hour outside Kigali, Rwanda, created and funded through Williamsport, Pa.-based nonprofit Hope Made Real and founded by Brown.(Diane Mastrull / Inquirer Staff Writer)
By most standards, Arlene Brown says, she's an "old lady" well past her contributing prime.
The reality, she believes, is that her true value began in retirement.
At the orphanage and school known as Urukundo Village that Brown opened on 10 mountainside acres in Rwanda in 2006, the Pennsylvania native is adored as "Mama Arlene." Now 84, she has devoted her retirement years not to cruising and golfing, but to giving a home and hope to some of Africa's neediest children.
"I'm actually reaching a place where I almost like myself," she says.
Like herself? An astonishing comment from a woman so beloved by her charges, she had to throw a party to console them before she left Rwanda April 1 for a two-month fund-raising trip home, her first visit to the United States in two years.
The staff at Urukundo — the name means love in Kinyarwanda, Rwanda's native language — says the children stop by Brown's bedroom regularly to count the days to the one circled on the calendar when she is due back.
"Urukundo is very precious to my heart," Brown told an audience of 28 that turned out on a Saturday morning last month in State College to hear her story and watch her power-point presentation. "I have a very difficult time leaving my children."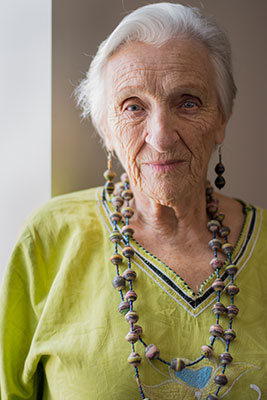 (Kelsie Netzer/For the Inquirer)
Arlene Brown at St. Paul's United Methodist Church in State College, Pa.
She was speaking, in that instance, of Urukundo's 54 children, ages 8 months to 21 years. But no easier was leaving her other family — her five children, 17 grandchildren and 17 great-grandchildren — in 2004 to live the rest of her life more than 7,000 miles away to care and advocate for those she said are far more vulnerable. The children of Urukundo have come from a variety of heart-wrenching circumstances, including abandonment, abuse and malnourishment.
"I'm very much at peace with it," Brown said of her move and the events she has missed as a result, including her mother's death and weddings. "I have a purpose."
Hers is most assuredly not your standard retirement. Also largely atypical is the view of what retirement should be that is held by this former nurse and 21-year floor leader at GTE Sylvania, supervising circuit-board production.
"If you stop moving, if you stop using your brain, then you start dying," she told a rapt, age-diverse audience in State College. "I haven't started dying yet. I don't have time. I have too much to do."
That's evident from the moment you step inside the gates of Urukundo, where Brown firmly yet lovingly commands with the seeming energy of someone 20 years her junior. Children rush to her, wearing deep smiles and delivering lingering hugs, as she leads visitors on a tour of the facilities: the vegetable crops and animal farm upon which most meals are dependent; the boys' and girls' dorms; the preschool-to-third-grade classrooms; the construction on fourth-grade classrooms; the dental clinic, library, arts center and recently added Baby and Mama Love House, where women can give birth and bond with their newborns a few days before returning home.
Diane Mastrull / Inquirer Staff Writer
With a staff of 49, Urukundo, which operates under the umbrella of the Williamsport-based nonprofit Hope Made Real, is the largest employer in Muhanga, a community an hour's ride from Kigali, Rwanda's capital. It is sign of progress in a country where more than a million people perished in the 1994 genocide.
Brown, the oldest of seven children and daughter of a coal miner, stops mid-tour and points farther up the lush green mountainside, where virtually nothing existed before she arrived, in her mid-70s, with a plan — more a calling by God, as Brown sees it — to make a difference. There will be a university there one day, she promises.
Retirement most definitely was not for her. She tried it at 62, her marriage over, her children grown.
"I did all the stupid touristy things," Brown said, recalling trips to Alaska, Canada, Hawaii and Israel. "You can only do so much of that until it gets to be old hat."
Her epiphany came, she said, when she was 65, following a Christmas holiday of too many gifts, cooking and cleanup, and not enough reflection on its true meaning. It left Brown on her knees in prayer asking for something more.
Her epiphany came, she said, when she was 65, following a Christmas holiday of too many gifts, cooking and cleanup, and not enough reflection on its true meaning. It left Brown on her knees in prayer asking for something more.
"Be careful," she said in recounting the moment. "Africa is on His list."
Her work there started as a 1996 mission trip to Zaire, now Democratic Republic of Congo, with a team working in a refugee camp not far from the Rwanda border to help children who lost parents in the genocide.
Brown returned twice more for mission work in Rwanda (to Gisenyi and Kigali) before taking the drastic step of selling her Williamsport home, her car and most belongings and moving there permanently. She bought a house and took in the first children in 2006.
Amenities such as the classrooms, the first of which were built in 2011, have been added over the years as need dictates and funding allows.
"It's not her agenda, but a response to needs that she and many others know will provide for the children and people of Rwanda," said Lower Merion native Carol Muscheck Falke, 63, now of State College. The retired fund-raiser met Brown in 2011 while researching a water project for which Urukundo was seeking funding. She was so impressed, she joined the board of Hope Made Real and now coordinates a number of support programs for the school and blogs about Urukundo at cdfalke.blogspot.com. "You just fall in love with the place."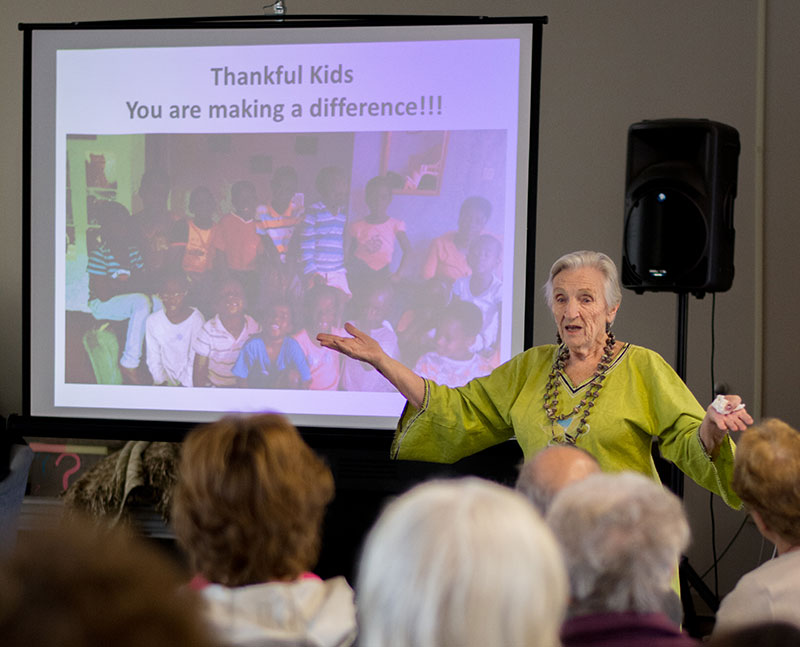 (Kelsie Netzer/For the Inquirer)
Arlene Brown speaks at St. Paul's United Methodist Church in State College
The children at Urukundo sure have, now treated to a life far from the horrors some knew. Thanks to the generosity of donors, they have colorful backpacks, school supplies, toothbrushes, and three hot meals a day served in a communal dining hall. They giggle on the playground and share without squabble a single television, on which only child-appropriate videos are shown.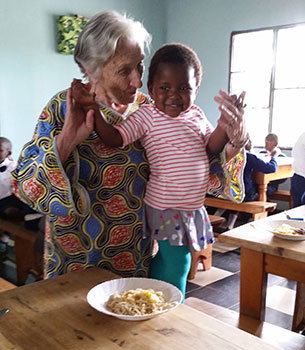 (Diane Mastrull / Inquirer Staff Writer)
Mama Arlene has some fun during the lunch hour with Benita, one of the Rwandan children living in the Girls' Home at Urukundo Village.
In the classroom, they wear uniforms and ready smiles, and sing with gusto at special performances. The chance to touch a visitor's hand elicits pure joy — as the latest electronic game would for a child in the U.S. The older kids look after the younger ones and, when they are away at university in Kigali, make regular calls to check on Mama Arlene, who unrelentingly preaches the value of an education.
Chair of the Hope Made Real board is Brown's youngest son, Jerry, 58, of South Williamsport, who keeps in touch with his other mostly by Skype and has visited Urukundo once.
"So many old people sit home and get old," he said. "She's running all over the place. I'm very proud."
According to Hope Made Real's 2013 tax forms, the nonprofit had $181,952 in revenue and $184,249 in expenses.
Brown, a no-frills woman who admits to a lifelong desire to look like World War II-era actress Greer Garson, draws no salary, her expenses supported through her Sylvania pension and Social Security, along with help from private donors.
With few health problems and a mother who lived to be 97, Brown said she is counting "on living another 30 years, as it will take that long to lay a truly firm foundation for the future of the adults and children so hurt by the genocide."
In case she doesn't, a succession plan is in place, largely dependent on the staff and board she assembled at Urukundo.
She has one other hope for her legacy: "I want people who are retiring to value themselves," Brown said. "You can retire from the workforce. Don't retire from life. You've got too much to offer."
dmastrull@phillynews.com 215-854-2466 @dmastrull
For more information on Urukundo Home for Children, e-mail Arlene@hopemadereal.org or go to www.hopemadereal.org.