MICHAEL BRYANT / Staff Photographer
A crash, a broken spine, a road to recovery
Ryan Straschnitzki, 19, is held by Anne Leer, a recreational therapist, as she eases him toward the chair that will raise him out of the therapy pool.
After Humboldt bus crash, junior hockey player embarks on rehab at Philadelphia-based hospital
Thursday, September 6, 2018
Ryan Straschnitzki held tight to the bar of the lift as he slipped into the therapy pool at Philadelphia's Shriners Hospital for Children on a July day.
"It's warm," Anne Leer, recreation therapist, reassured him as she maneuvered the lift until it was hovering just inches above the water.
"Awesome," he replied, showing off a nervous grin.
As Straschnitzki slid off the chair, he could feel the water's pressure against his upper chest. A basketball pool hoop and small, colorful beach balls floated nearby. It was time to get to work.
"I was a big swimmer when I was walking," he said. "I just enjoyed being in the water."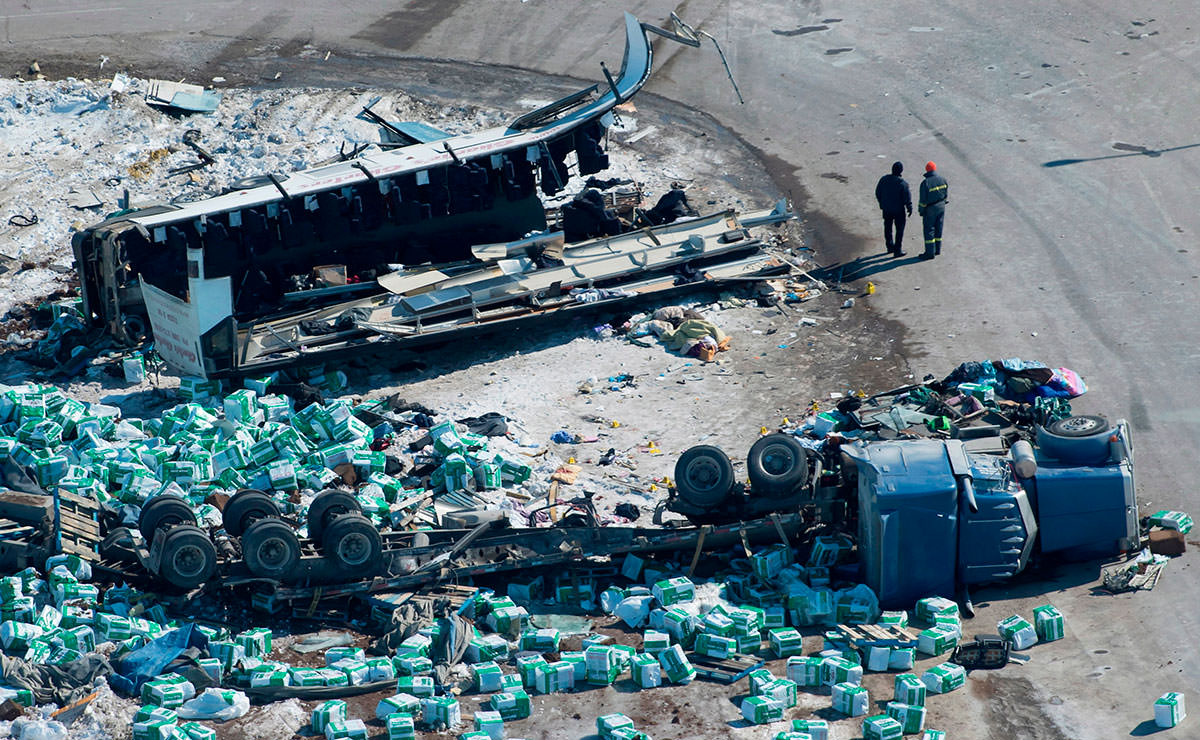 JONATHAN HAYWARD / The Canadian Press via AP
A bus carrying the Humboldt Broncos junior hockey team crashed into a truck in Saskatchewan, Canada, in April, killing 16 players, coaches, and team staff, and injuring others.
That was before the moment of impact – 4:56 p.m. April 6, forever frozen on his broken cell phone – that ended his dreams of a pro hockey career and started him on a journey through the world of spinal cord injury rehabilitation.
Along the way, Straschnitzki, 19, would begin to learn what defines his new normal for virtually every system in his body. It will be about two years before he fully knows how much function he will regain. He is learning that caring for his body demands far more time than before, but that he can still manage all that and the busy schedule of a young adult. He maintains hope that he will walk again someday as medical science advances. For now, independent living is the goal. And maybe a career on the ice as a Paralympic athlete.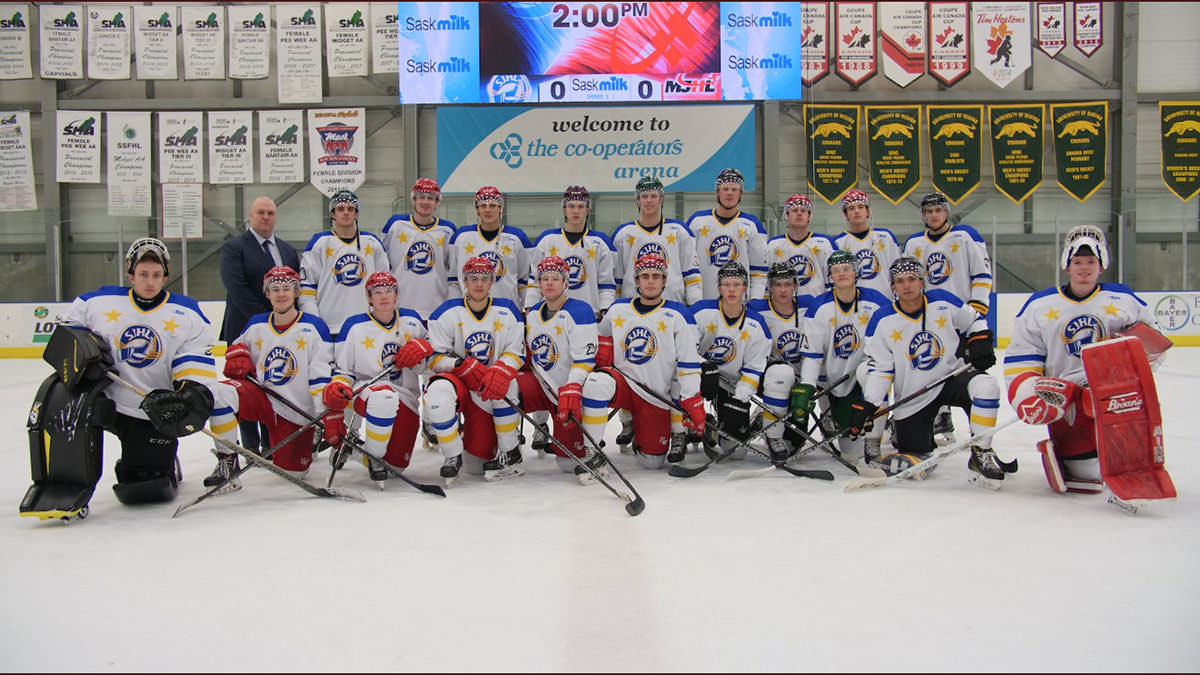 Straschnitzki, top row second from left, on an all-star Saskatchewan hockey team.
The crash
The bus carrying 29 players, coaches, trainers, and team announcers of the Humboldt Bronco Canadian junior hockey team was about 20 miles north of Tisdale, Saskatchewan, en route to a playoff game when it collided with a semi-trailer truck. The bus roof was sheared off, and many of the players, ages 16 to 21, were ejected onto the frozen ground.
"I looked down [at my legs]. Maybe they were just stuck."
– Ryan Straschnitzki
One minute, Straschnitzki was texting his girlfriend. The next, the defenseman was lying next to an overturned flat bed, surrounded by smoke and bags of peat moss, yelling for help for his motionless teammates.
He tried to get up but could not move his legs.
"I looked down," Straschnitzki recalled. "Maybe they were just stuck."
Sixteen people on the bus died. The rest were seriously injured. Straschnitzki was airlifted to the Royal University Hospital in Saskatoon, Saskatchewan.
A broken spine
The broken collarbone, fractured scapula, broken ribs, head injury, punctured left lung, bruised sternum, pelvic bleeding, cuts, and bruises would eventually heal. A foot-long scar along Straschnitzki's upper spine marks the spot where rods were inserted to stabilize his shattered T2 and T3 vertebrae, located slightly above the shoulder blades. He is paralyzed from that point down, so he has use of his arms, but little below his armpits.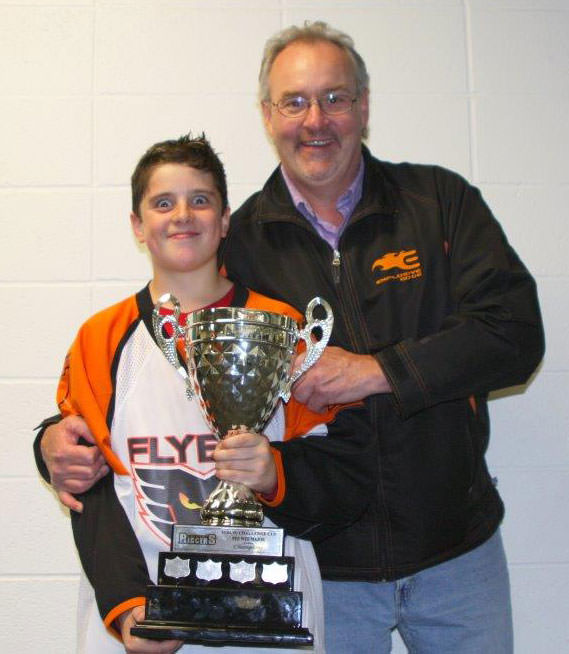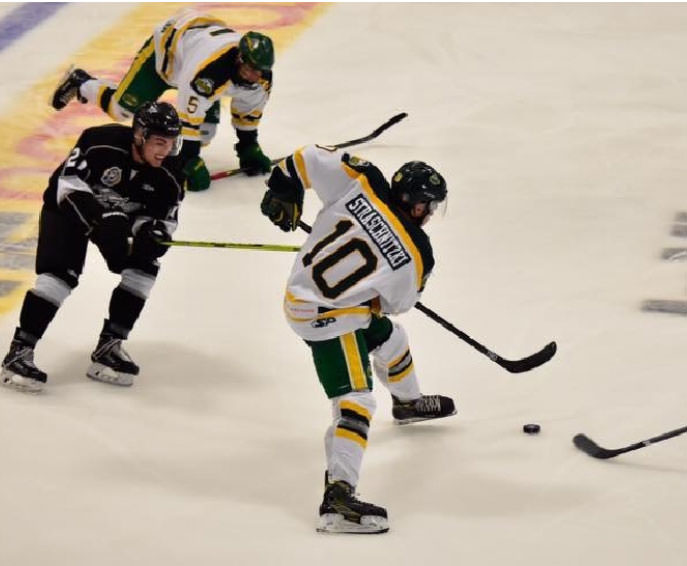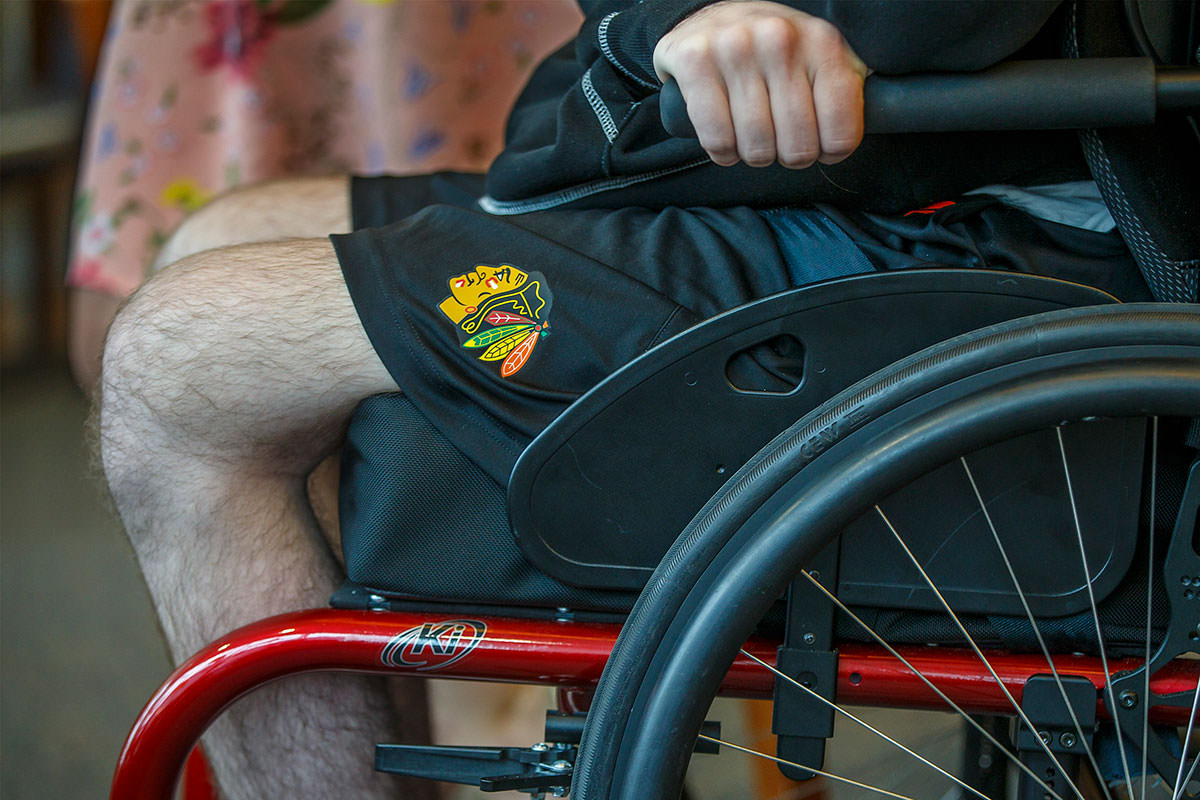 In medical terms, Straschnitzki's injury is classified as motor complete and sensory incomplete. He will have some sensation and feeling but no movement below his injury.
"If I can't walk, just let me die," Straschnitzki told his father in a low moment shortly after the accident.
"That's not happening," replied his father, Tom Straschnitzki.
The hope for many spinal cord injury patients, doctors, and researchers in the field is to walk again.
While walking is still elusive, there have been tremendous advances in research and the care of spinal cord patients, said Michael E. Selzer, director of Shriners Hospitals for Children Pediatric Research Center.
Until the mid-20th century, a spinal cord injury was a likely death sentence as many patients succumbed in the days following an accident to infections, pneumonia, deep vein thrombosis, embolism, or infected skin ulcers. The use of antibiotics and respirators starting around the 1940s was a game changer, Selzer said.
Tom Straschnitzki, who lives with his wife, Michelle, and their four children just north of Calgary, said his son has been remarkably centered on his new reality, rather than despairing over what he has lost.
Even in the fog of post-surgical pain, his son told him, "I guess I'll be playing sledge hockey." Sledge hockey – or sled hockey, as it is known in the United States – is a Paralympic sport.
After almost four weeks in a hospital and another four at a Calgary rehabilitation center, father and son flew to Philadelphia's Shriners Hospital on North Broad Street, drawn by its expertise in orthopedics and spinal cord care for patients between infancy and 21 years. The family learned that a spinal cord injury has whole-body implications, and they wanted the attention of pulmonologists, rehabilitation doctors, urologists, neurosurgeons, and other specialists.
"Each injury is completely unique," said Bethany Lipa, medical director for rehabilitation and one of Straschnitzki's doctors.
At Shriners, nurses handle much of the education and care, spending time with the families to teach them the skills they will need once they return home. Any treatment costs during the five-week stay not covered by his family's insurance would be picked up by Shriners.
Road to recovery
In his first week of rehab, Straschnitzki struggled to move from his wheelchair onto a therapy table. He focused on getting back some of the weight and muscle he had lost. An elite athlete before the crash, he embraced the four hours of therapy a day – performed to a country music playlist – and often asked to use the equipment outside of those sessions.
"He picked up on the skills pretty quickly and was always motivated to know what he needed to do next."
– Christin Krey, a physical therapist and pediatric clinical specialist
"He picked up on the skills pretty quickly and was always motivated to know what he needed to do next," said Christin Krey, a physical therapist and pediatric clinical specialist.
Straschnitzki's every move was recorded by his father on a palm-sized video camera and shared on social media with friends back in Canada.
Dana Johnson, a physical therapist, coached Straschnitzki on how to shift his body weight as he transferred from wheelchair to therapy table.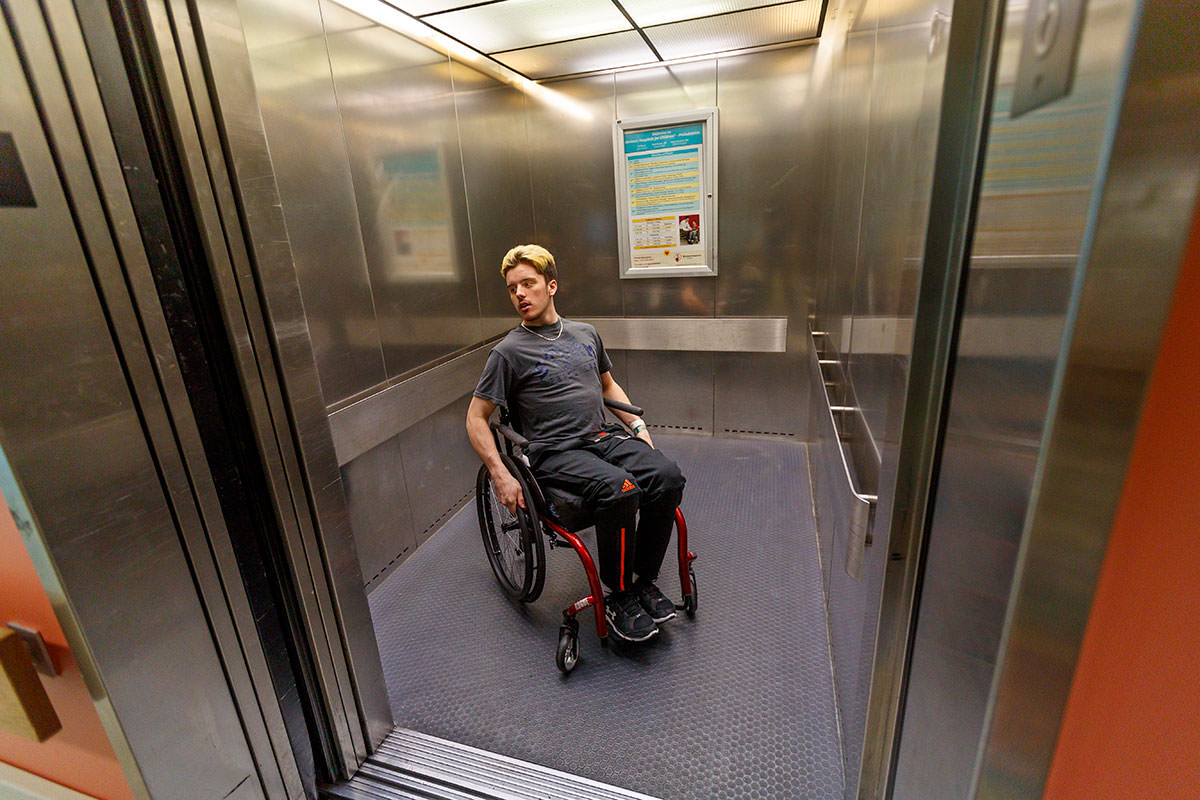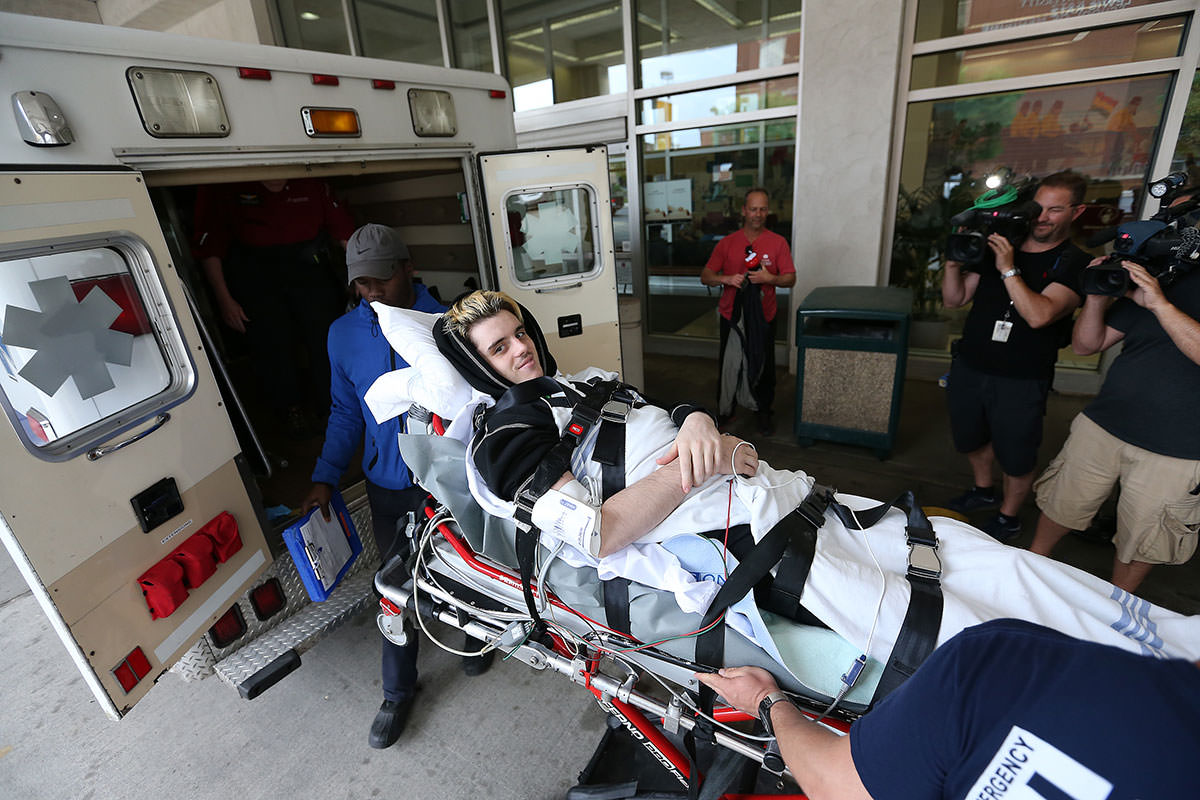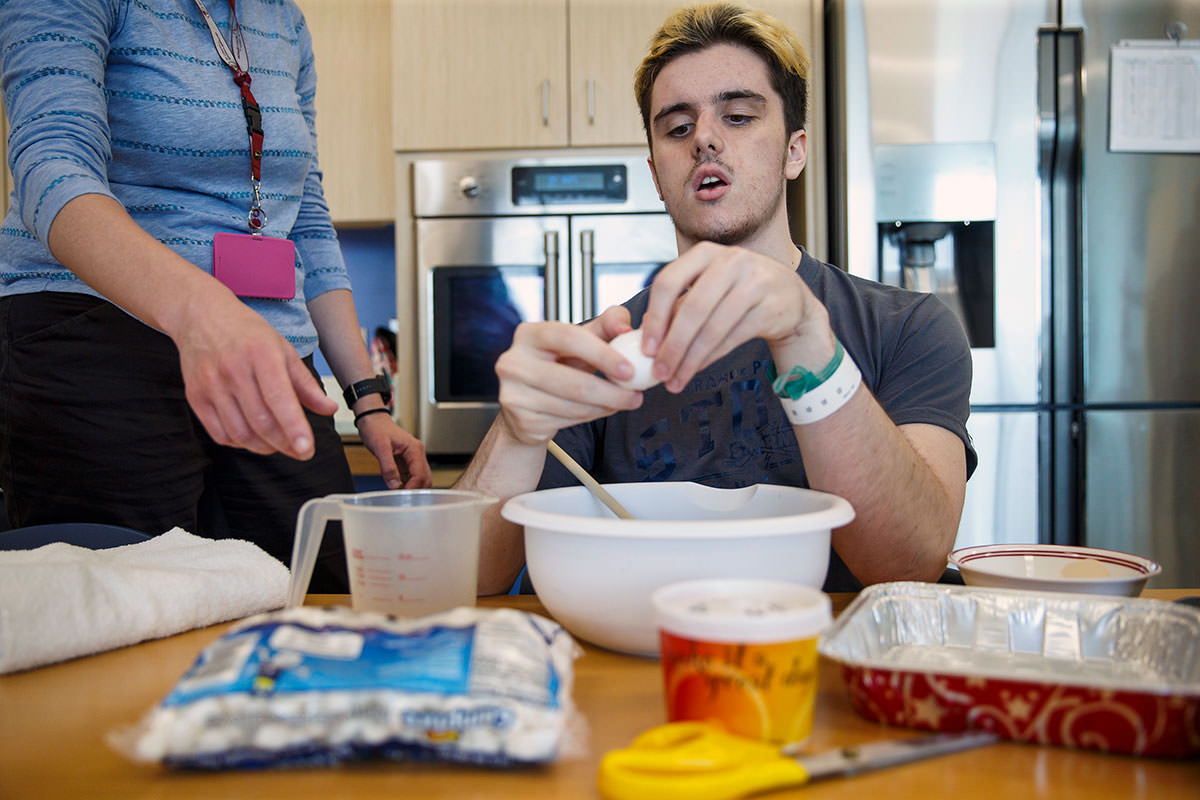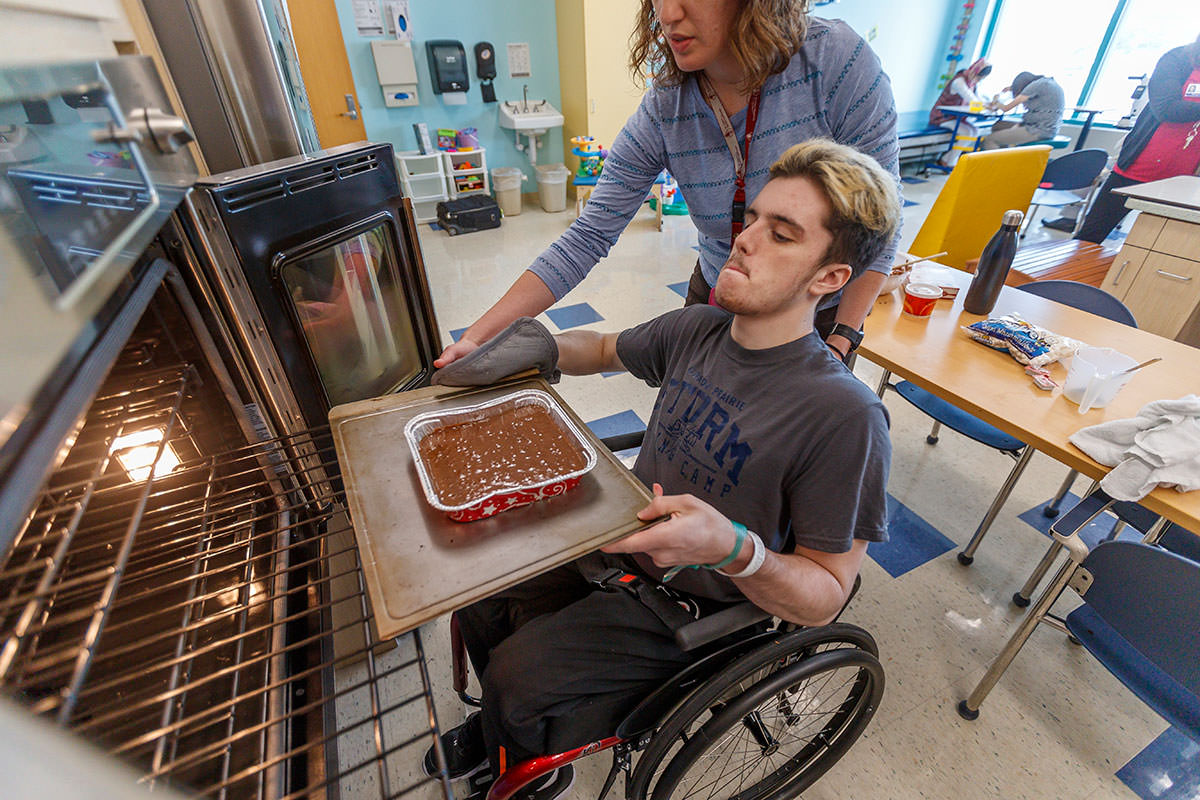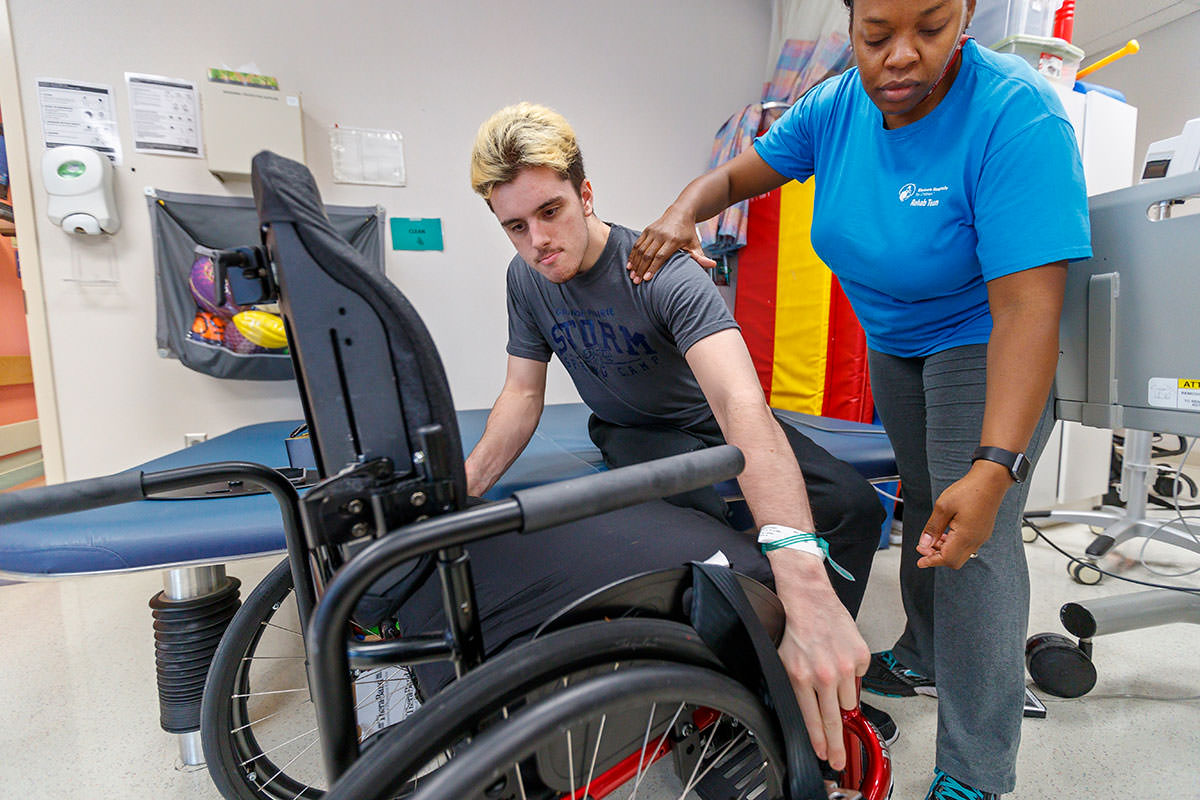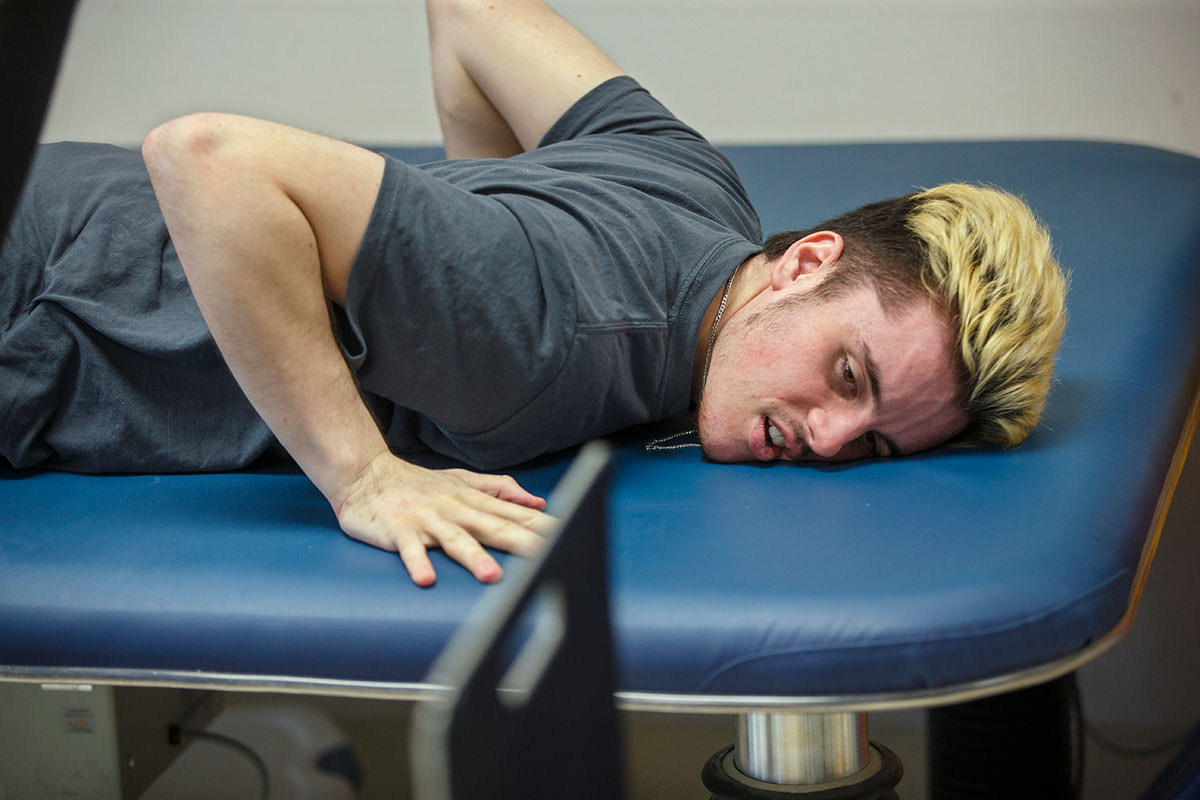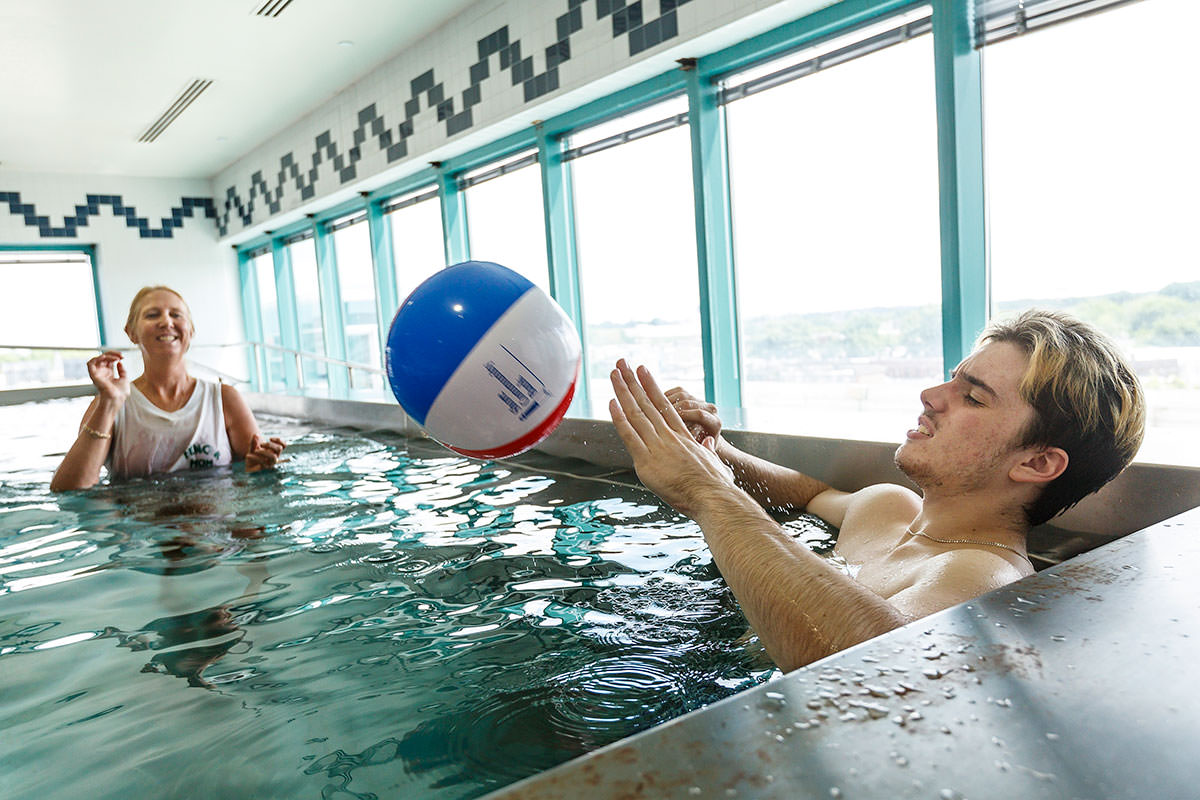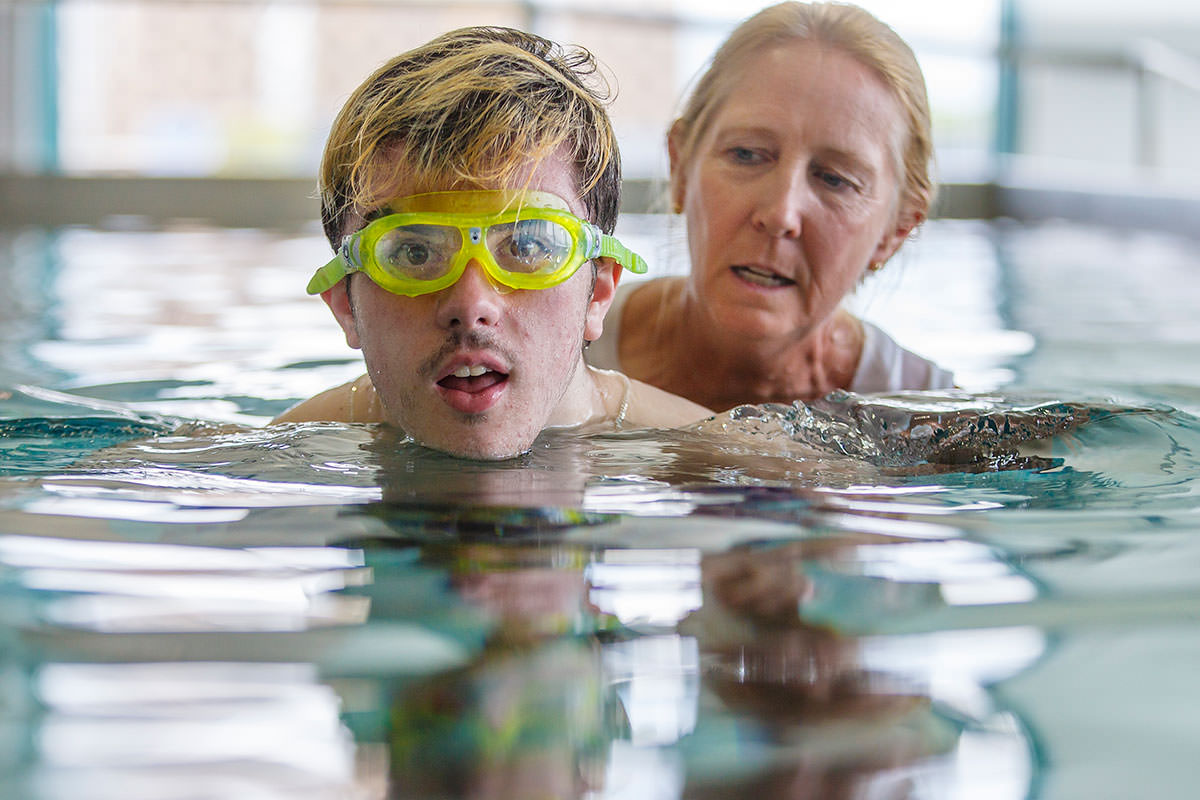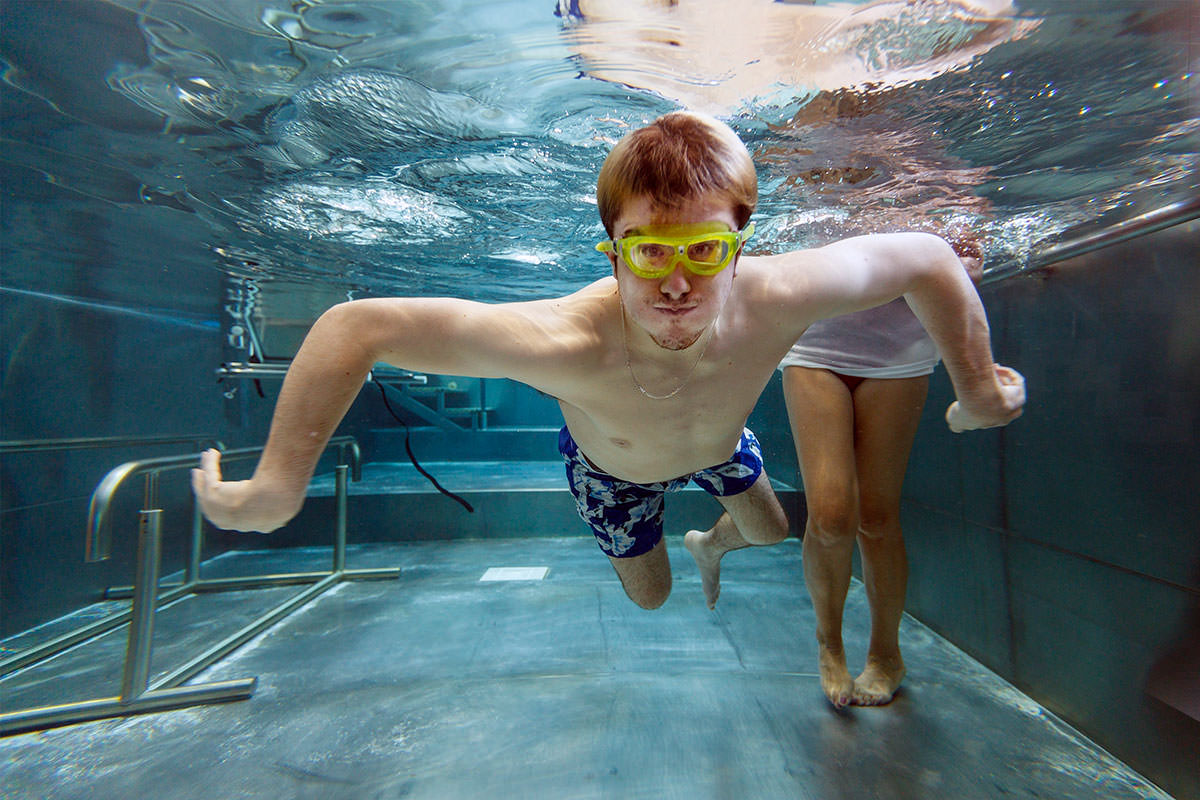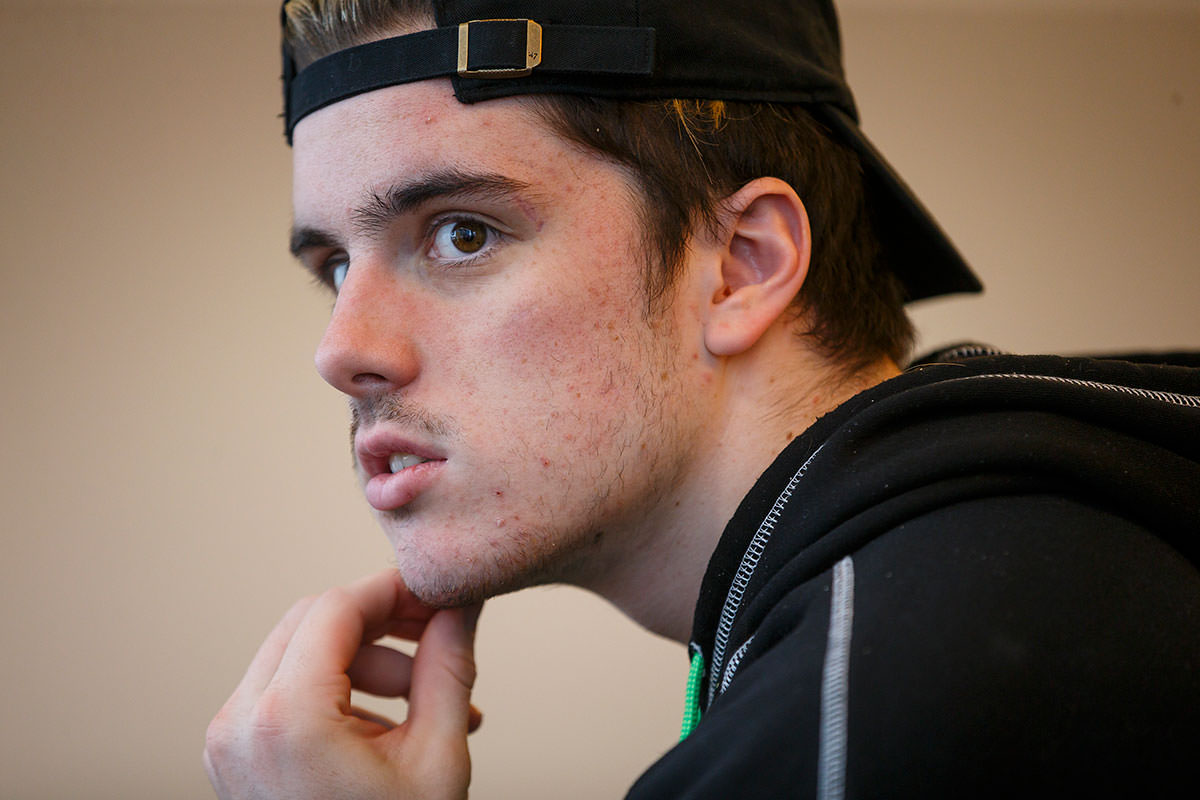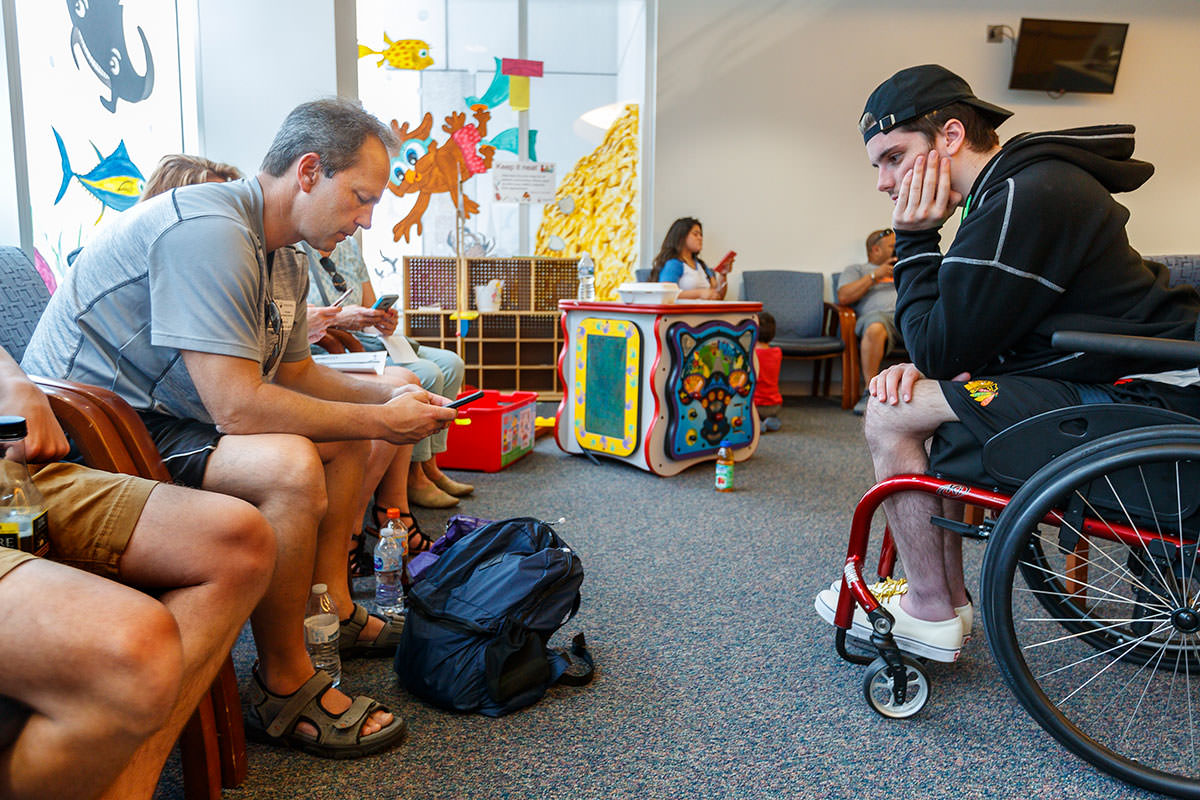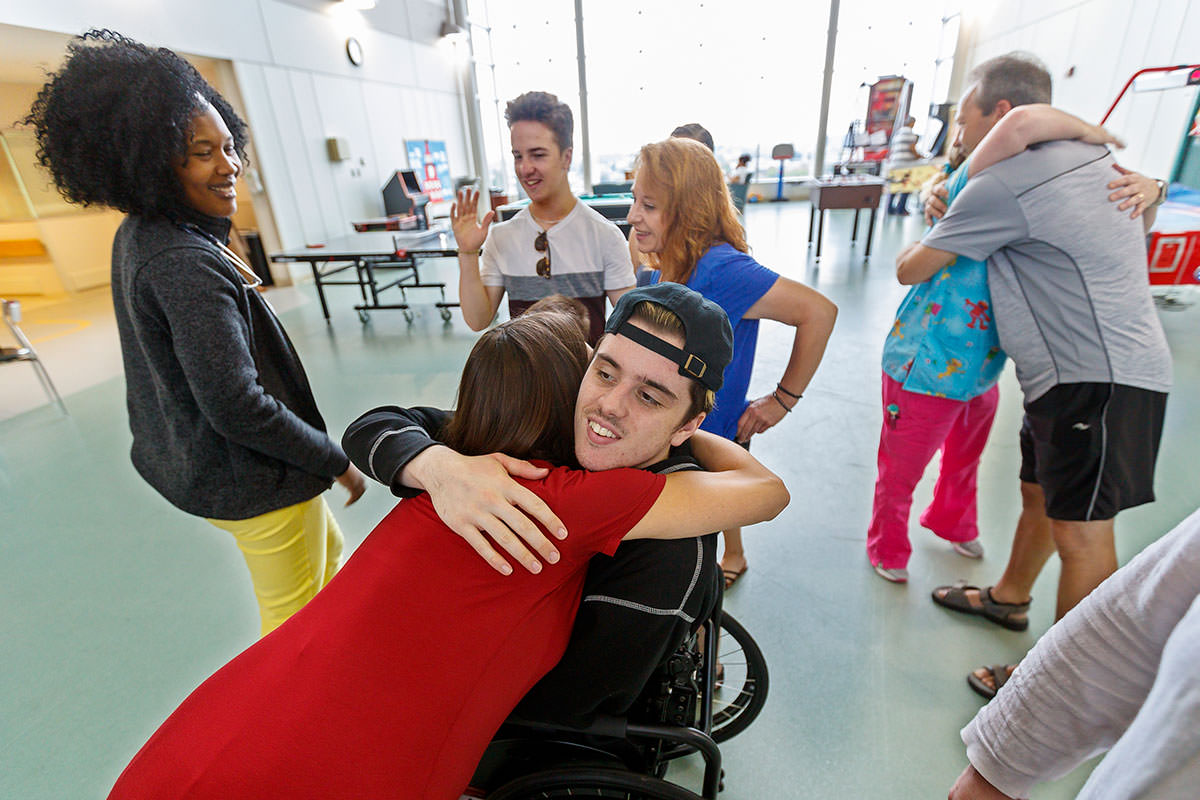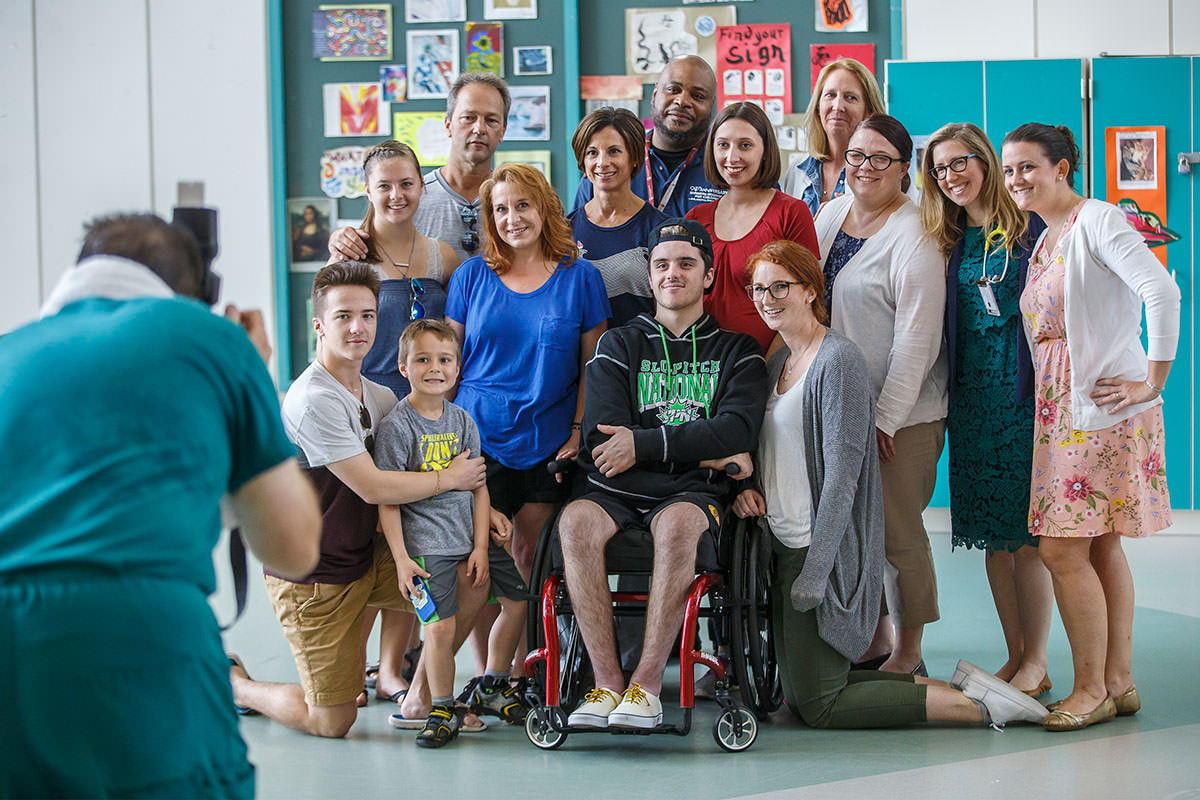 1
of 13
"It's hard because the shoes are sticky," Straschnitzki said, as he tried to maneuver into a more comfortable position on the mat. As he began to lean back, Johnson pointed out that one of his legs was bent in an awkward and precarious position – something he had no way of realizing.
"Just because you can't feel it, doesn't mean you can't break it," Johnson cautioned.
A transfer to the tilt table came next. After so much time in bed, Straschnitzki's body needed to adjust to being upright. As the tilt table slowly brought him up to a standing position, his blood pressure and other vital signs were carefully monitored.
Autonomic dysreflexia, a sudden increase in blood pressure, will likely be a long-term concern. It occurs when something happens with the body below the level of injury. It can be as simple as tight clothing or a full bladder but can trigger an automatic reaction that causes the blood pressure to shoot up. In Straschnitzki's case, as his blood pressure skyrockets, the skin on his chest gets blotchy or his face gets red.
It is most common in spinal cord patients who have an injury at the T6 vertebrae, just below the shoulder blades, or above. Left untreated, it can lead to seizures, stroke, or death.
New center of gravity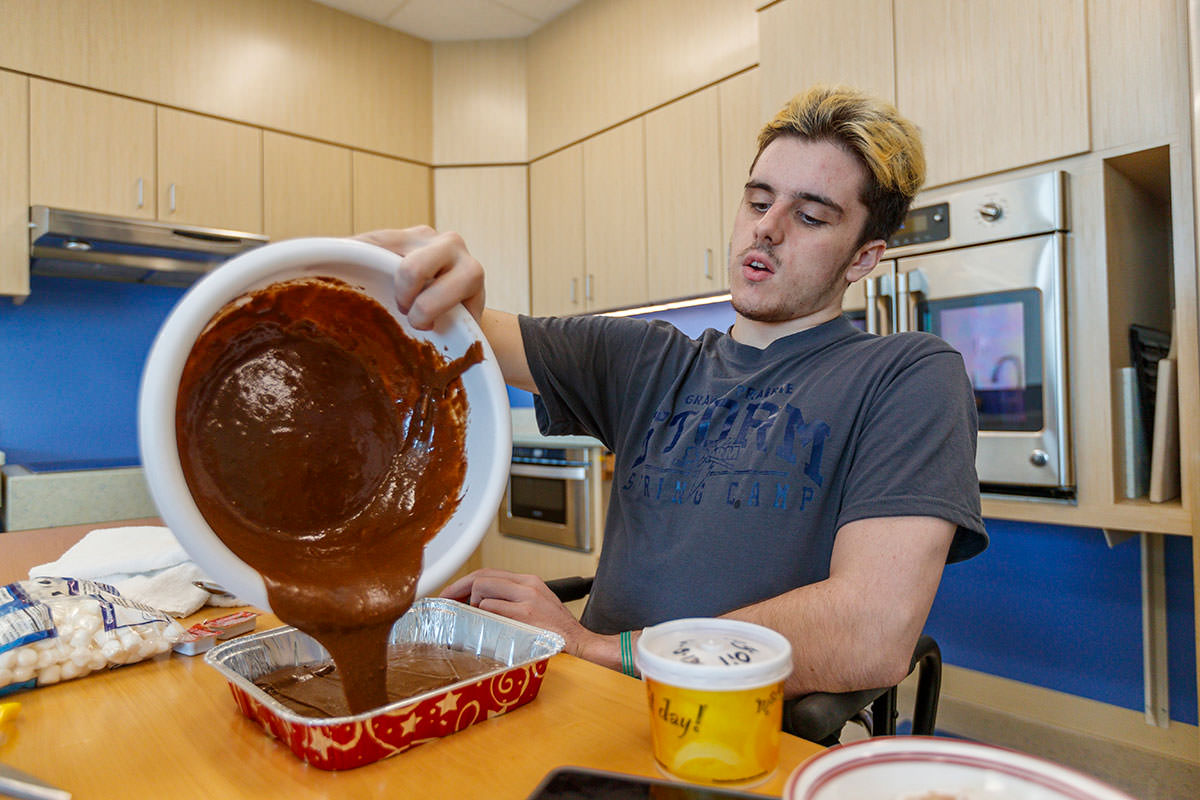 MICHAEL BRYANT / Staff Photographer
Making brownies was on the agenda in his life-skills therapy class in a specially designed kitchen at Shriners.
Since he started skating at age 4, Straschnitzki whipped across slippery ice on the thin blades of hockey boots, his finely tuned sense of balance helping him to twist, turn, and stop in an instant.
Now he is learning the exquisite balance required to maneuver a wheelchair. He relies on the muscles in his upper trunk and neck to find a new center of gravity, and figure out where his body is in relation to the space around him. Mastering wheelies – which will help him deal with high curbs and other barriers – was his biggest challenge.
"I'm getting there," he said, admitting he still needs the anti-tippers, a small set of extra wheels attached to the back of his chair to help prevent him from going over backward.
Straschnitzki must wear loose clothes. Shorts and pants must have elastic waistbands – jeans with zippers and rivets could rub and injure his skin, causing sores that could go unnoticed and lead to more serious problems. His collection of professional sports sweatshirts and baseball caps, typically worn backward, still work. But he needed bigger shoes to be certain his toes wouldn't get pinched.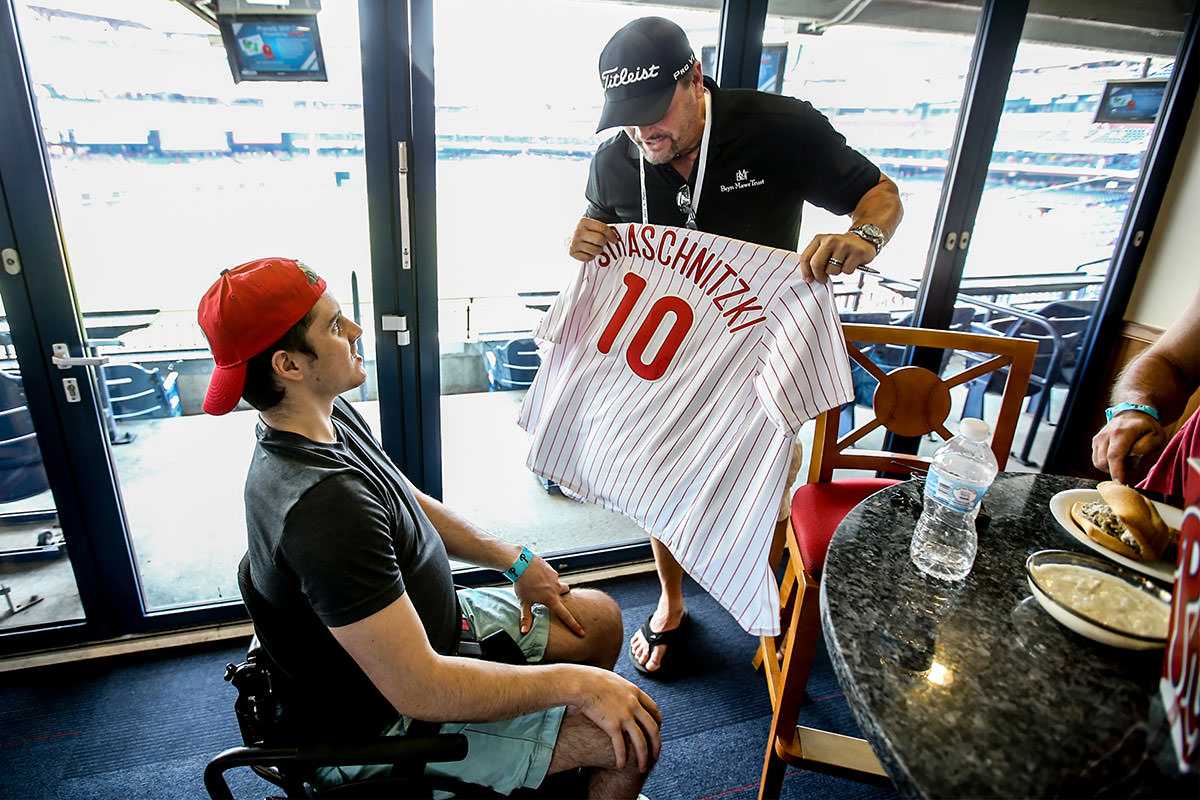 MICHAEL BRYANT / Staff Photographer
Tommy Greene of the Phillies presents Straschnitzki with his own authentic jersey, while he attended a game at Citizens Bank Park.
"We educate everybody about skin," said Lipa, medical director for rehabilitation. "Pressure wounds are terrible. It's better to prevent them than deal with them."
Straschnitzki accepts this routine with a shrug. "Obviously, I can't feel it," so he must visual check from head to toe every day, with the help of mirrors, a cellphone camera, parents, caregivers, whatever works.
Spending an hour a day on his feet, using a platform or standing wheelchair, is now built into his schedule. It will not only help take the pressure off his skin but also aid digestion and bone density.
Straschnitzki can no longer sense when his bladder is full. At Shriners, he was taught to catheterize himself on a regular schedule and prevent urinary tract infections, once a leading cause of death after paralysis.
Regulating body temperature has been tough. "The slightest breeze can make me cold," Straschnitzki said.
He can no longer sense the changes in ambient temperature or even sweat below the point of his injury. Shivering is now a signal that a part of his body he can't feel is uncomfortable – like his toes being cramped in his shoes.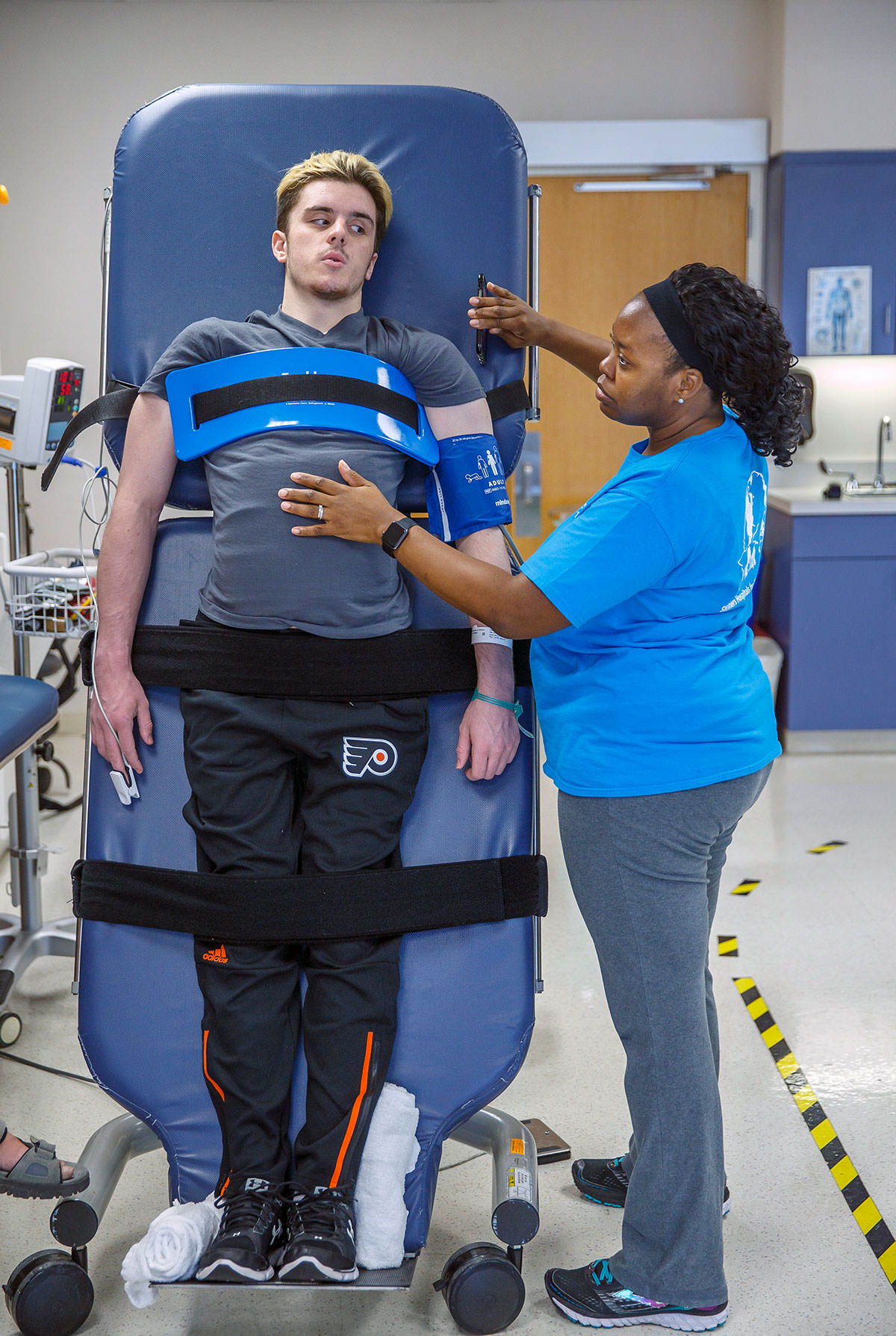 MICHAEL BRYANT / Staff Photographer
Physical therapist Dana Johnson checks Straschnitzki's position on the tilt table, which he used to simulate a standing posture.
Heather Russell, a clinical psychologist at Shriners, said learning to cope emotionally usually takes a couple of years for spinal cord injury patients. If the injury was the result of a trauma such as a car accident, the patient may have nightmares, avoidance issues, or emotional numbness. People are taught coping skills to deal with the trauma and the onslaught of questions from classmates, friends, and strangers. Dating, sex, marriage, and having children all are topics for discussion in rehab, she said.
Family members must also learn to cope and deal with their own feelings, she said. "You don't adjust to an injury in a vacuum."
In Las Vegas for the 2018 National Hockey League Awards in June, Straschnitzki got to connect in person with most of the surviving team members for the first time since the crash, though they'd been in touch by text.
"Everyone heals in their own way," he said of how his friends are holding up. "We know we have each other's back and that's the main thing."
He means that figuratively and literally. On this adventure "in the real world and not nursing care," as he put it, he grappled with wheelchair-unfriendly restrooms, missing curb cuts and ramps, and other sources of tough wheeling.
"I didn't know the Hard Rock Hotel was going to be all carpet, so that was definitely a challenge," Straschnitzki said. But his teammates were there to help push.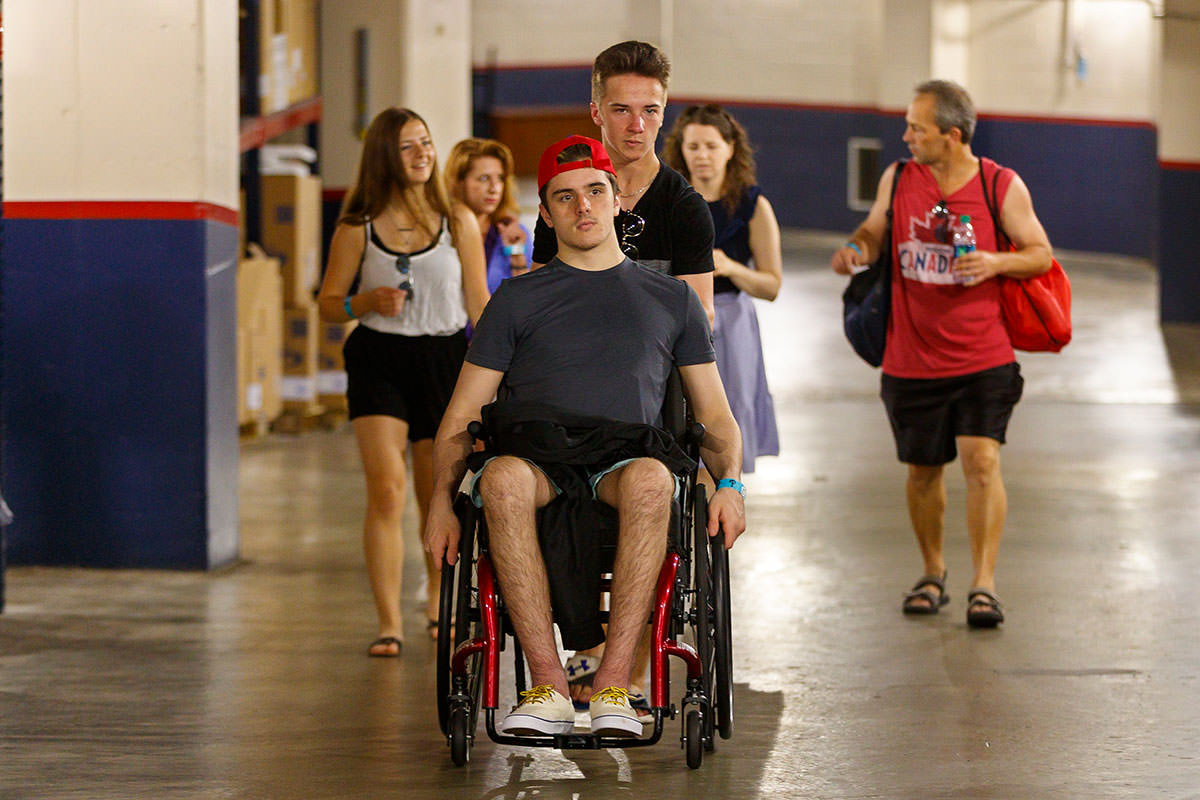 MICHAEL BRYANT / Staff Photographer
Straschnitzki's brother, Jett, 16, center, pushes him toward the Phillies clubhouse as the rest of the family follows behind.
Headed home
Straschnitzki's last week in Philadelphia was filled with trips to the Flyers' practice facility, a Phillies game, rounds of clinic appointments, and last-minute instructions.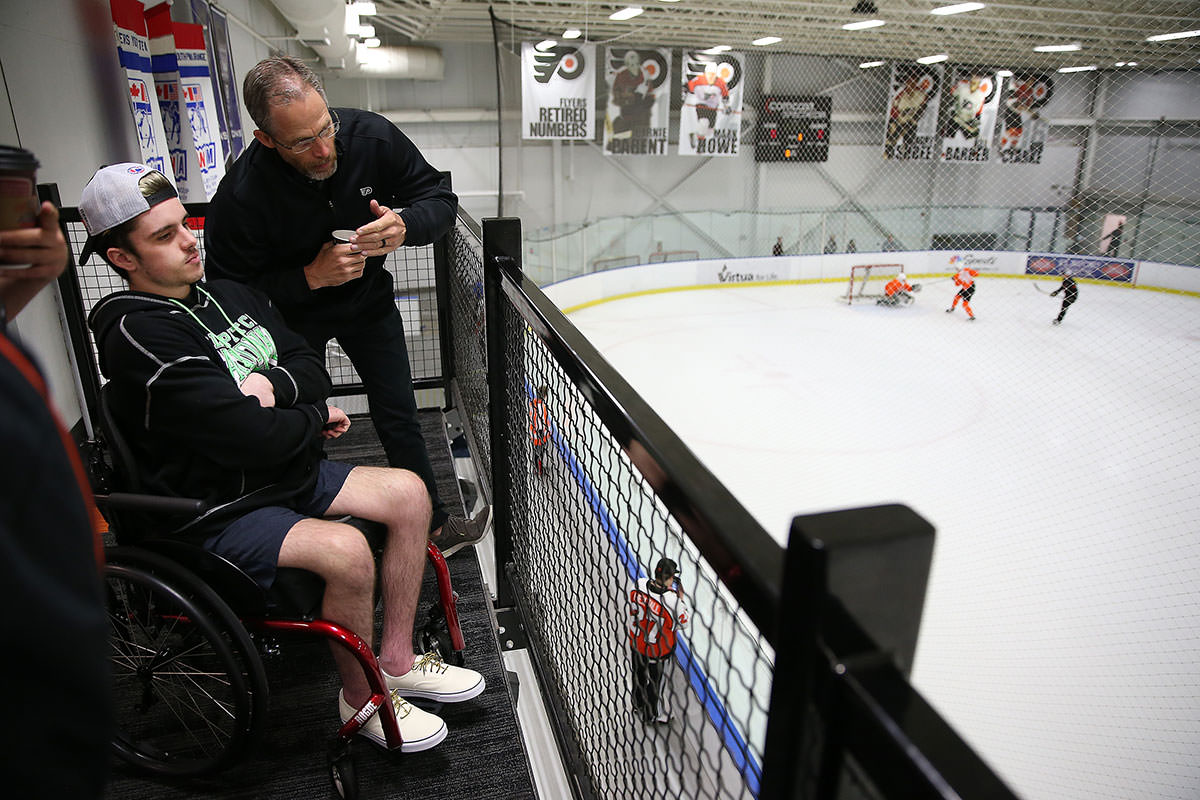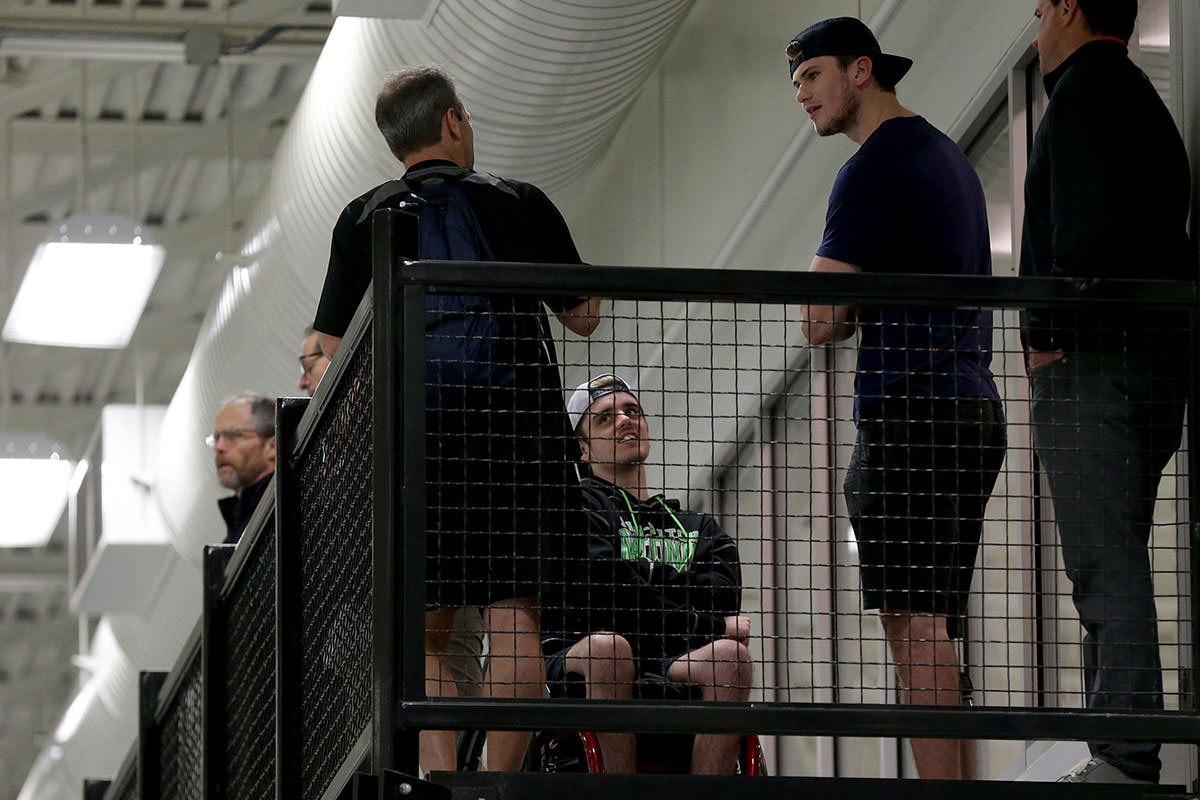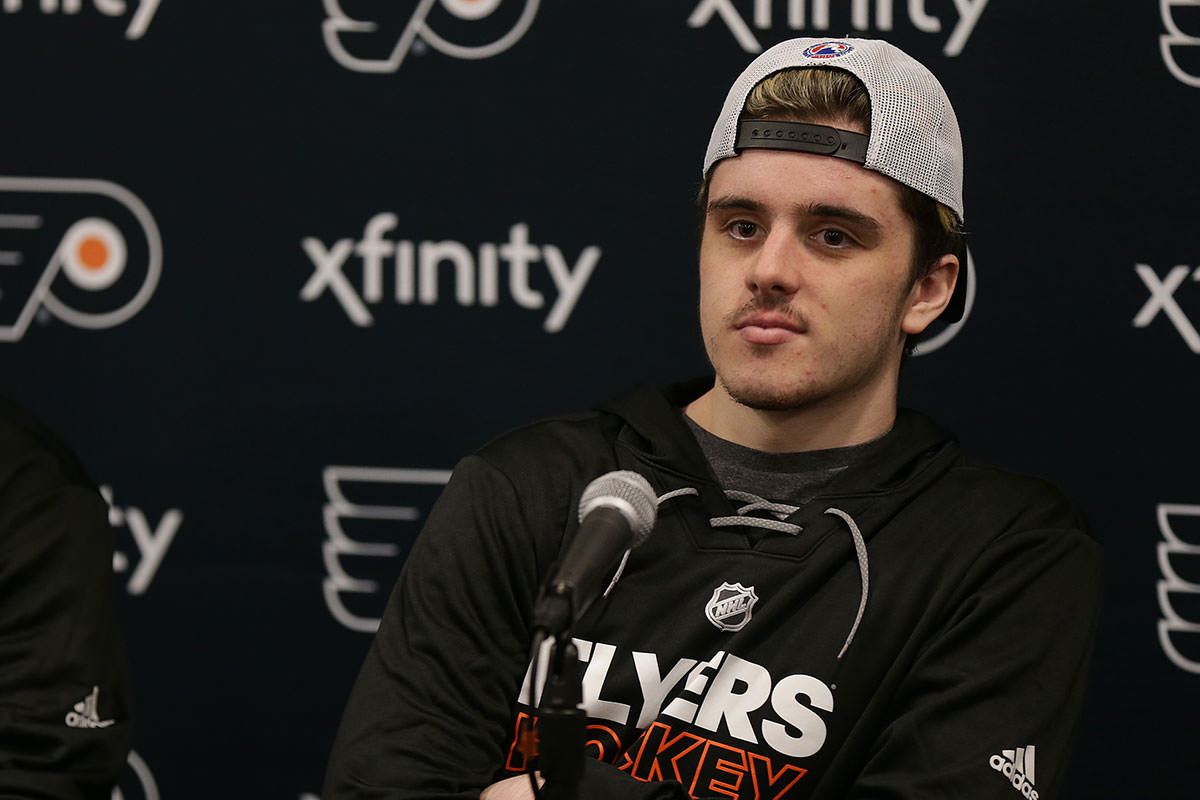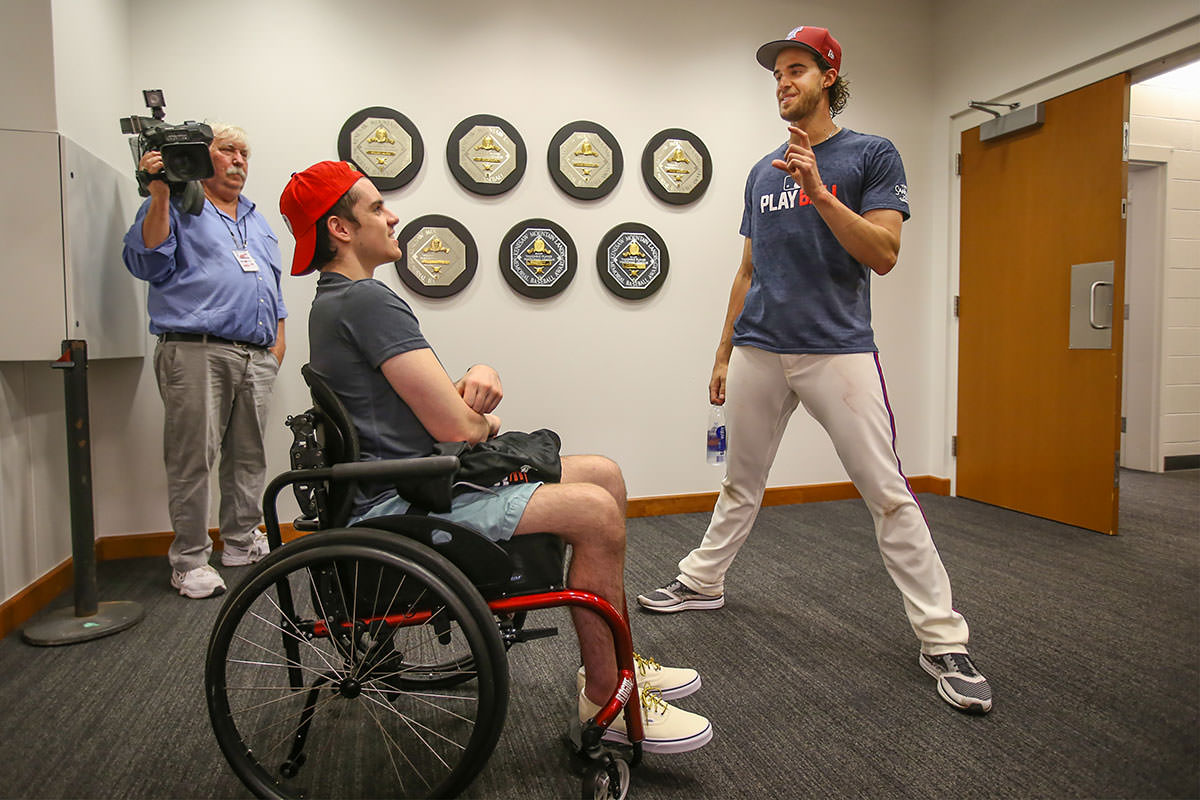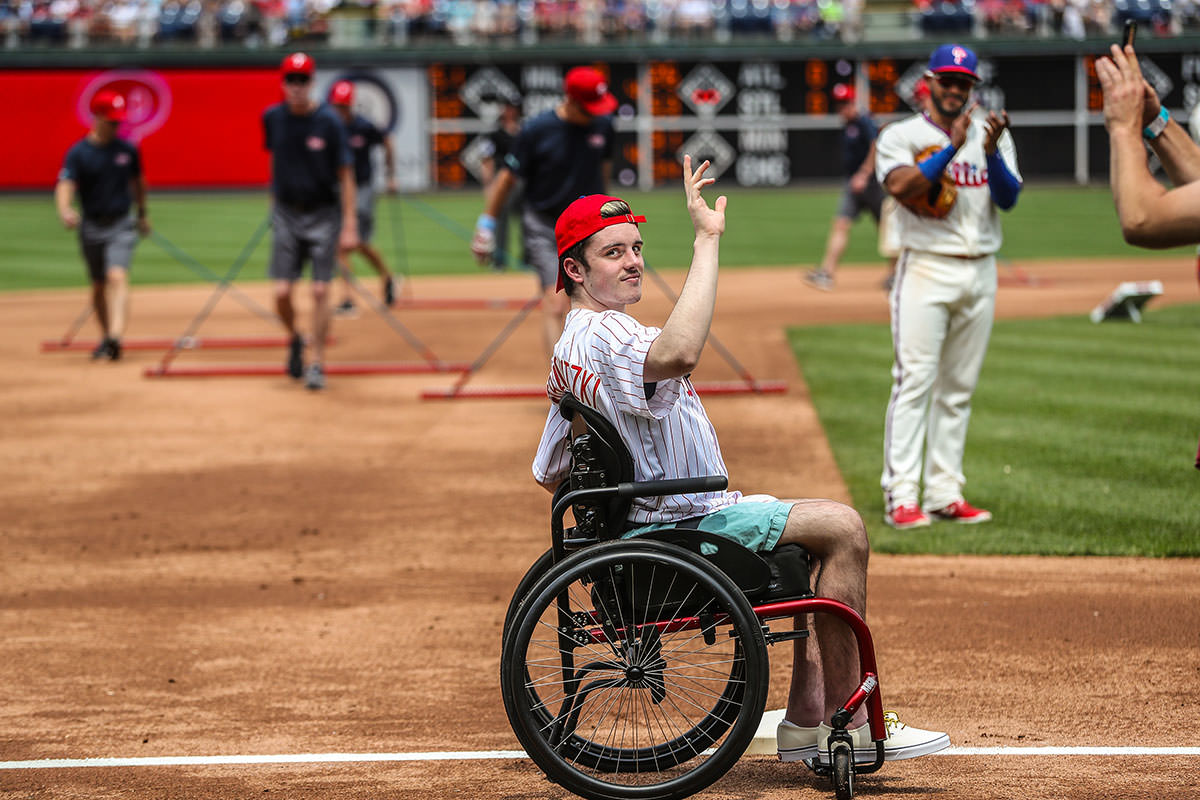 1
of 5
"I will try to live in the now and focus on what I can do to get better," said Straschnitzki, on his last day at Shriners. He hopes to be able to walk and to skate again but says if he can't, it is "not the end of the world."
It will be some time before Straschnitzki, who will continue therapy at Synaptic Injury and Neruro Rehabilitation Centre in Calgary, gets to sleep in his own bed.
Do you find this story valuable? Support journalism at The Philadelphia Inquirer, Philadelphia Daily News and Philly.com by subscribing.
The Straschnitzki home is undergoing a $100,000 makeover that will include a basement apartment with an adaptive kitchen, plus an elevator to reach the rest of the house, handicapped-accessible bathrooms, new wheel-friendly flooring, and stairless entries. The family is living in a hotel until the renovations are complete.
College is on the horizon, along with his goal to play sledge hockey for the Canadian Olympic team in 2022. He was back on the ice about two weeks after leaving Philadelphia, and knows it will be a tough challenge.
Day 1 of try outs. First time on ice since April 5. BIGGEST SMILE momma and I have ever seen. Thanks Chris Cederstrand and Okotoks Rink for this. Yes Corban Knight (Flyers) and Erika and I were out there also. It is NOT easy. pic.twitter.com/NXOyFqc6kf

— Strazsr (@strazsr) July 21, 2018
"Getting to wear that Maple Leaf on your jersey," he noted, "is pretty hard."
Humboldt Broncos crash survivor Ryan Straschnitzki, left, and his little brother Connor learn sledge hockey at Winsport.
Leah Hennel / POSTMEDIA